Honeybook is one the most popular platforms used by freelancers, small businesses, and entrepreneurs to manage their projects, clients, and work in one place.
In this Honeybook review, I explore the features, tools, and functionality of the platform to figure out if it's really worth the price.
If you're looking for ways to supercharge your freelance work with an all-in-one platform, Honeybook is an app that's worth trying out.
And, if Honeybook is not for you, I have an Honeybook alternative as well. Keep reading to find out more.
What Is Honeybook?
Honeybook describes itself as a "client management software for small businesses". Although, instead of directly targeting freelancers, it offers a set of tools that are most attractive to service-based businesses such as agencies and studios.
You can use it for all your client and project management tasks. As well as for generating invoices, processing payments, and more.
If you run a small business or an agency, Honeybook is a versatile platform you can use to manage your clients, meetings, and everything in between.
Here are some of the main features of Honeybook.
Manage All Your Clients
Honeybook has a great client management system that lets you organize your clients in one place.
Honeybook also has a tool that allows you to offer your services to clients as packages so they can easily sign a contract and hire you for a job based on different pricing plans that you offer.
This is perfect for freelancers who offer packaged services at fixed prices.
Schedule Meetings
As I mentioned earlier, Honeybook is mainly focused on offering tools for small businesses. One of its main features is the ability to schedule meetings.
Using this tool, you can quickly book and organize meetings with clients without having to go back and forth in long email threads.
Create Online Contracts & Proposals
Creating project proposals and getting a contract signed by your client is much easier with Honeybook.
You can create simple proposals with an outline of your project scope to show clients what you bring to the table. It has tools in place to get your client's e-signature as well.
Generate Invoices
Honeybook has an online invoicing tool with clean and professional designs. You can use it to generate invoices and offer clients to send your payment directly from the invoice.
Automate Your Tasks
Automation is one of the big advantages of using Honeybook. It allows you to automate certain tasks like setting up reminders, sending emails to clients, follow-ups, and more.
For example, if you've sent a proposal to a client and they still haven't responded, you can setup an automation to send a reminder to the client to approve the proposal.
Pricing Plans
One of the benefits of using Honeybook is that it just has one pricing plan and it gives you unlimited access to the platform.
You can either choose to pay $39 per month or $390 per year to save 17%.
Honeybook Alternative: Bonsai
Similar to Honeybook, Bonsai packs so many amazing tools and features into one place that there's no one correct way to describe it. So I always end up calling it an all-in-one software suite for freelancers.
You can manage your freelance clients, organize projects, generate invoices, do time tracking, create contracts, and so much more with Bonsai.
Bonsai is a platform that you should keep in your toolkit at all times. Once you see your freelance business growing and start accepting more clients, an all-in-one platform like Bonsai becomes indispensable.
Here are some of the best features you get with Bonsai.
Manage Multiple Clients In One Platform
If you've ever had to juggle two or three clients at the same time you know how frantic things can get. Sometimes you'll even forget which project belongs to which client.
Bonsai has a built-in client CRM to help you avoid those situations. Using this tool, you can easily manage all your clients in one place.
Even if you close a project with a client, you can keep them in your Bonsai client CRM just in case you want to contact them again for work in the future.
Organize Freelance Projects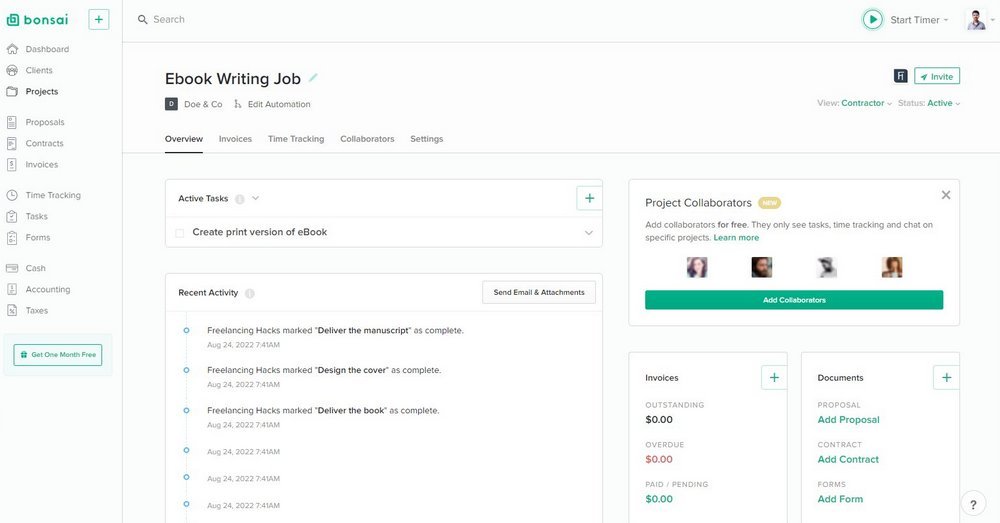 Bonsai has a very streamlined system that connects each tool with the other. So when you add a client to the Bonsai CRM, you can create a new project and assign it to your client. This makes things simpler and easier for managing your projects.
Of course, you can also fully organize your projects, create tasks, and even assign other people to your projects as well.
Generate And Automate Invoices
One of the best features of Bonsai is its invoicing tool. Using this tool, you can not only create invoices with just a few clicks but you can also automate them to send every week or every month. It's perfect when working with long-term clients.
Bonsai invoicing tool is connected to its client CRM. So when creating an invoice, all you have to do is select the client and the assigned project. Then all the information gets filled in automatically.
You can also add a payment processor to your invoice so that the clients can make payments more easily. It's little things like this that would encourage clients to pay on time.
Create Proposals and Contracts
Creating attention-grabbing proposals to showcase your approach to a project is also much easier with Bonsai. It has a built-in tool that lets you quickly design effective proposals that showcase your ideas and concepts.
And, if a client approves your proposal, you can then also create a contract and turn it into a project in Bonsai.
Manage Your Finances + Bonsai Cash
Managing finances is one area most freelancers often neglect. When you're worried about deadlines and getting clients to pay you on time, it's easy to forget about expenses, profits, and taxes.
Thankfully, Bonsai offers an Accounting tool to help you track all your expenses. And it has tools for tracking your profits and losses. As well as a complete tax management tool.
With Bonsai Cash, things get even better. Dubbed as a "bank account for Freelancers", Bonsai Cash gives you a physical Bonsai card and virtual cards for subscriptions and payments. It also allows you to process invoices and get paid faster.
Pricing Plans
Bonsai offers a free trial for you to test out all of its features. And then you can choose to continue with a paid membership or use a free account with paid add-ons like Bonsai Tax.
Starter: This plan is ideal for beginning freelancers. It costs $24 per month and it includes access to all of the tools in Bonsai
Professional: Once your freelance business starts growing, you can switch to this plan. It costs $39 per month and it includes custom branding, client portal, and Quickbooks integration
Business: This plan is ideal for small businesses. It costs $79 per month and includes everything from other plans plus the ability to bring in 3 more team members, the ability to connect multiple bank accounts, and more
Honeybook vs Bonsai: Which Platform Is Best?
There are many ways to look at the usefulness of both these all-in-one platforms. But when looking at it from a freelancer's perspective, Bonsai is ahead of Honeybook in several areas.
While both Bonsai and Honeybook offer similar features, Bonsai is the platform that's built with a freelancers-first approach. It has a set of seamlessly integrated tools that covers all aspects of your freelance work.
The invoicing and project management tools alone are worth using Bonsai for. And it has tax management and accounting tools that are not available with Honeybook.
Even when considering the pricing plans, Bonsai has a more affordable option that gives you access to all of its client and project management tools.
You can try these platforms yourself. They offer free trials. Go give them a try. But if I'm not mistaken, Bonsai is the only platform that lets you continue to use it with paid add-ons after the free trial ends.
Did you find this article useful? Then you should check out my book Freelance Like A Pro. It includes 21 lessons and 5 secrets from my freelance career to help you supercharge your journey as a freelancer. And I have just released the 2024 edition of the book with updated content. Click here to learn more.