Even though I earn a comfortable living as a freelancer, I live a frugal lifestyle.
I always think carefully about what I spend my money on and invest the rest for the future.
But there's one thing that I never hesitate to spend my money on—Learning!
If I see a good book, an online course, or a program that would help me to improve my skills and abilities, I will buy that in a heartbeat.
Over the years I've spent a lot of money on platforms like Udemy, EDx, and Coursera to access courses to learn new things.
In 2022, I bought an annual subscription to Skillshare and challenged myself to learn a new skill every month.
I learned a lot of new skills. But then I realized something.
I've been learning about so many different things but I'm still working on the same type of projects with clients. And my side projects (including this website) were also falling behind.
The problem was I've been learning so many things but I could hardly remember them. Some of those courses seem like a dream now. And my productivity and motivation have been going down as well.
I kept trying to figure out what went wrong. This is when I came across Mindvalley.
What Is Mindvalley?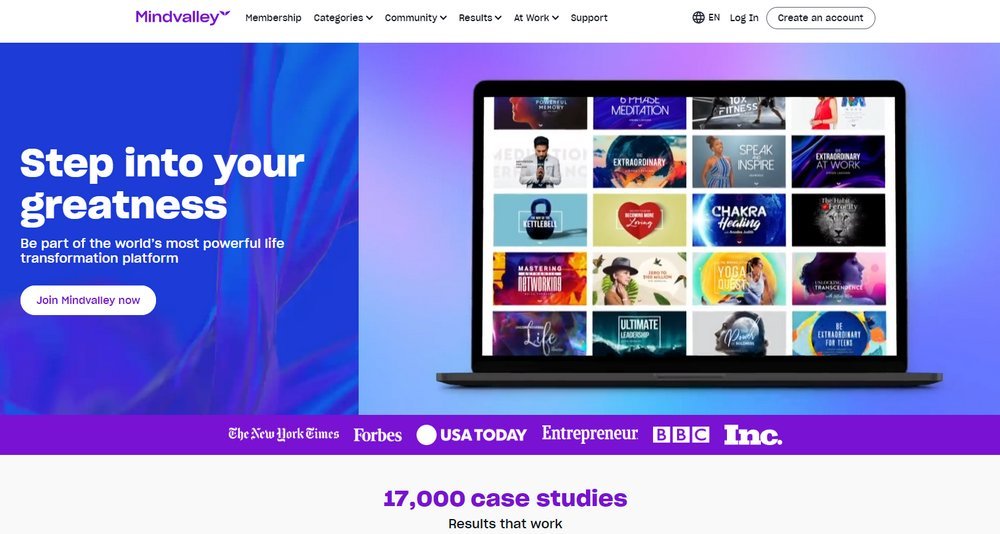 Now I know what you're thinking, it's just another online learning platform, right?
I had the same reaction when I first saw an ad for Mindvalley on Facebook. But it's not like other online learning platforms.
Mindvalley is a platform founded by Vishen Lakhiani, the author of The Buddha and the Badass. It's a site full of high-quality programs for people looking to better themselves.
Unlike other online learning platforms that teach you job-related hard skills and soft skills with short videos, Mindvalley focuses on going beyond with programs that improve yourself and your life. And Mindvalley programs last for around a month.
For example, one of the courses on Mindvalley is the Superbrain program by Jim Kwik. This course gives you some valuable tips, tricks, and methods to help you remember things better and tap into the full potential of your brain power.
This course completely transformed the way I learn and remember things. And also gave me a few cool methods on how to remember things like names of people I meet, phone numbers, bank codes, and more.
I'll go into more detail in the next section.
The Quality of the Courses
As soon as I joined Mindvalley, one thing that was abundantly clear to me was the quality of its courses.
These courses are like full training programs that you would normally pay thousands of dollars to access. There are programs available in many different categories on the platform ranging from productivity, self-improvement, career development, health, fitness, and much more.
The first Mindvalley program I joined was Jim Kwik's Superbrain.
This program is highly detailed. In each lesson, he shares new methods and techniques for enhancing your memory and retaining things better.
One of the techniques he teaches you is the F.A.S.T. method. Which is a technique you can use to learn things better.
It stands for:
Forget – Forget that you know everything, remove your mental limitations, and prepare your mind to accept new information
Active – Be actively present when learning, take notes, ask questions, join a community
State – Get into a state where you are more motivated to learn
Teach – Learn as you are going to teach it to someone
Jim Kwik describes it better than I do.
But this method is the first thing I learned and it's now carved into my brain.
The second course I joined was the Silva Ultramind program by Vishen Lakhiani. This course teaches you the incredible power of your subconscious mind using the techniques popularized by Jose Silva.
I've been learning about psychology and the subconscious mind for a long time. It's the main reason why I was interested in the Silva Ultramind program.
This program teaches you some incredible ways you can tap into different brainwave frequencies to access altered states of your mind to learn better, be more creative, heal your body, and achieve unimaginable things.
I know it might sound weird to most people but our mind has incredible power that most people aren't aware of. It's why a lot of successful people credit the Law of Attraction method as the main reason for their success.
There are so many other programs on Mindvalley just like this.
What I'm Going To Learn Next
I'm already planning a few other programs to join next after finishing the Silva Ultramind program.
The next one I'm going to join is the Becoming Focused and Indistractable program. Mainly because I tend to get distracted all the time and have ADHD-like tendencies that make it hard for me to stay focused on things for long periods.
Then I'll be checking out the Be Extraordinary program. Because I want to learn how to go beyond my limits to find new ways to improve myself.
And of course, I'm looking forward to attending a live class too.
Is Mindvalley Worth The Money?
Every course and mastermind program is taught by reputable industry veterans. This gives each course tremendous value, unlike other platforms where anyone can publish a course. This alone makes Mindvalley worth its price.
Pricing for Mindvalley starts at $59 per month or $25 per month for the yearly subscription. If you were to join a coaching program or attend an event to learn these programs, you'll probably have to pay thousands of dollars. But for $25 per month, you can learn so much more than just one online course.
Platforms like Skillshare is great for learning job-related skills. But if you want to go above and beyond in your work and life, you'll have to find others who have achieved the top positions in their careers and listen to their advice.
That's why Mindvalley is most suitable for professionals, freelancers, and entrepreneurs who are looking to improve their productivity and achieve the next level in their careers. At least, that's how it has helped me.
After following just two programs on Mindvalley, it opened my brain and new ideas came flowing. And I planned a new strategy to grow my side projects as well as ways to provide more value to my clients.
Did you find this article useful? Then you should check out my book Freelance Like A Pro. It includes 21 lessons and 5 secrets from my freelance career to help you supercharge your journey as a freelancer. And I have just released the 2024 edition of the book with updated content. Click here to learn more.