Finding the perfect project management app for freelancers is like looking for a needle in a haystack.
There are so many productivity and project management tools out there but most of them are designed for big teams and startups.
Thankfully, there are a handful of apps that offer better tools for freelancers and solopreneurs.
In this comparison, I look at the top productivity apps for freelancers to help you find the best platform to manage your projects and clients in one place.
Let's dive in.
Moxie is a productivity app with project management features designed specifically for freelancers. It's an all-in-one platform that features multiple useful tools for you to manage all your work in one place.
Moxie has a built-in client relationship management (CRM) system, time tracking, automatic invoicing, as well as a project management tool that works in harmony to offer a smooth work environment for freelancers.
Moxie is also built by a team of entrepreneurs with experience in freelancing. So each feature in the platform is designed to solve problems faced by freelancers, like writing legally-approved contracts and designing effective proposals.
You can read my review to learn more about Moxie.
Complete All-In-One Platform
As I mentioned earlier, Moxie provides you with all the tools you need to manage different aspects of your freelance work in one place.
Unlike using other project management tools, like Trello or Asana, Moxie goes beyond project management and offers additional tools like invoicing, time tracking, and even scheduling meetings with clients.
This means you don't have to use multiple apps and websites to complete different tasks of a project.
A Seamless Experience
The main benefit of using Moxie is its inter-connected tool kit. Each tool in the platform is connected with one another to offer a smooth and seamless experience.
For example, when you create and send a proposal to a client the proposal automatically turns into a project in Moxie when it gets approved.
The project deliverables that you outline in the proposal turn into tasks in the project management tool. All that's left for you to do is start working on the project, setup invoices, and get paid on time.
Advanced Project Management System
Moxie combines project management with time management to create a powerful system where you can stay on track no matter how busy things get.
You can also create both timed and fixed projects, something that most other project management tools don't offer.
You can add deliverables (or tasks) with sub-tasks and deadlines to create a complete timeline of the project. And easily share them with your team and collaborate on projects.
Built-In CRM
Moxie has a powerful client relationship management system that allows you to easily juggle multiple clients at a time without losing track of the project.
The CRM overview provides a clear view of your ongoing projects, like how many hours you've worked, payment schedule, upcoming tasks, and more.
Client Portal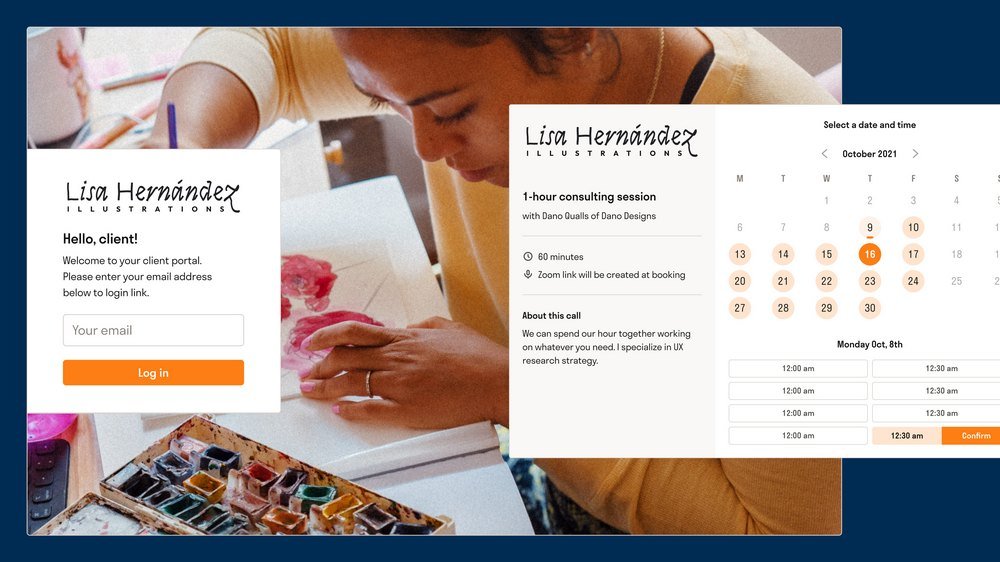 With the client portal, you can give your clients a space to manage and keep track of all the projects you're working on.
Using the client portal, your clients can sign proposals, view your progress, make payments, book meetings, and see your tracked time on projects. Moxie's client portal makes client collaboration effortless and is a great way to give your clients a unique experience that'll keep them wanting to engage with you.
Automatic Recurring Invoices
Whenever you add a new client to Moxie, you can set payment terms depending on how you prefer to get paid.
You can set your own terms, like if a percentage of payment needs to be deposited before starting a project. Or even add a late payment fee to invoices.
Features like these let you avoid painful and awkward back and forth emails between you and the client.
You can also create automatic invoices in Moxie to get paid weekly, bi-weekly, monthly, or even annually.
How Much Does It Cost?
Moxie pricing is very simple. It offers two pricing plans:
Pro plan only costs $16 per month and lets you have unlimited clients, projects, and collaborators.
Teams plan costs $26 per month and lets you have 6 licenses to work with team members as well as all the benefits of the Pro plan.
Benefits of Using Moxie
The seamless work environment helps you save a ton of time
Manage multiple clients without losing track of projects
Handle projects and track time in one place
Ability to create proposals and have them automatically turn into projects
Setup automatic recurring invoices so can get paid on time
Track your earnings and expenses
Schedule meetings with clients
Downsides of Using Moxie
There are really no downsides to mention about Moxie. Except that it may feel a bit overwhelming to take everything in at first. But, you can easily learn the software by going through the onboarding guide and videos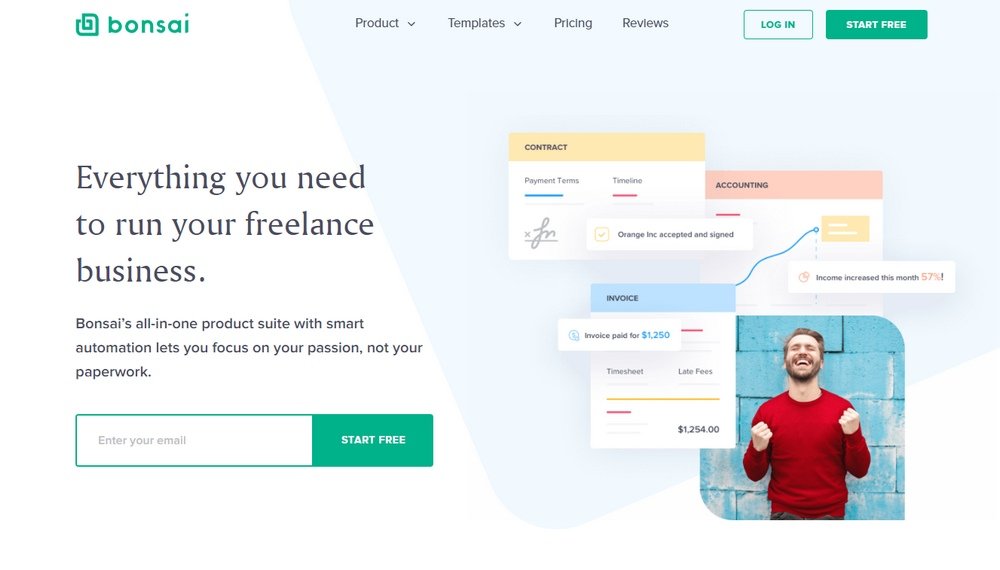 Bonsai is another all-in-one project management platform designed with freelancers in mind. Bonsai has tools and features that are quite similar to Hectic. Except Bonsai doesn't have a fully-featured project management tool as the one Hectic has.
Instead of a project management tool, Bonsai has a system called Task Tracking where you can create tasks for projects and track their progress.
The main tool kit of Bonsai includes a freelance proposal creation tool, contracts, client CRM, time tracking, and invoicing. Bonsai has a beginner-friendly dashboard where you can easily track your earnings, clients, invoices, and time spent on tasks.
Complete Product Suite
Bonsai offers a complete product suite for managing your clients, payments, proposals, and contracts in one place.
Bonsai also does a great job of onboarding new users while offering a simplified experience to beginners. Even if you haven't used a project management app before, learning to use Bonsai is quite easy.
Proposal & Contract Templates
Creating project proposals and contracts for clients is much easier with Bonsai. Mainly because it lets you choose from pre-made templates to create contracts and proposals for different types of projects.
All you have to do is look for a free template, edit the content, and send it over to your client for approval.
Tax and Cash Add-Ons
For more serious freelancers, Bonsai offers a couple of additional add-ons that you can integrate with the app.
The Bonsai Tax add-on lets you track expenses, earnings, and manage tax directly from the Bonsai app. This costs an additional $10 per month on top of your monthly subscription.
The Bonsai Cash add-on is a financial hub where you can manage your payments and finances. This tool is free to use.
Automatic Recurring Invoices
With the help of Bonsai Cash payment integration, processing your client payment is quite simple. Since it's integrated with Bonsai and its invoicing system, you can automatically generate invoices for clients while offering many different payment methods to choose from.
How Much Does It Cost?
Bonsai offers a 14-day free trial for testing the app. To continue using the app, you'll need to upgrade to a premium plan.
Workflow plan costs $19 per month and lets you manage unlimited projects and clients
Workflow Plus plan costs $29 per month and it includes a client portal, automation, and client forms
Benefits of Using Bonsai
A complete product suite lets you work more efficiently
Manage your payments, taxes, and invoices in one place
Built-in time tracking system automatically syncs with your projects
Client CRM helps you manage all your clients
Lets you receive payments from multiple payment gateways
Downsides of Using Bonsai
Does not have an effective project management tool
Expensive pricing plans
Honeybook is a different type of project management tool that calls itself a "client management software". Although it has the same kind of tools as Hectic and Bonsai, Honebook does one thing better—automation.
Honeybook has an innovative automation system that lets you put some of the tedious tasks on autopilot. This is the one feature that sets Honeybook apart from the rest.
In addition, the platform offers many different types of tools you can use to manage your freelance work and clients in one place.
Workflow Automation
The Workflow Automation system in Honeybook is an impressive feature that lets you automate simple tasks to save time.
For example, you can create automation to send emails or files to clients at a specific time. Or you can even create trigger-based automation to react to client behavior.
I don't normally encourage freelancers to automate tasks since it basically turns you into a robot. But even I have to admit this feature is pretty cool.
Create Proposals, Contracts, & Invoices
Much like Moxie and Bonsai, Honeybook also offers tools for creating proposals and contracts you can send to clients.
Even though Honeybook lacks a client CRM for managing all your client relationships in one place, it makes up for this missing feature by giving you an all-in-one dashboard that connects all the tools together.
Effortless Scheduling System
If you regularly have meetings with your clients, you can use Honeybook to schedule your meetings according to a calendar so you don't waste any time waiting for the client to hop on the Zoom call.
Simpler Payment Processing
Honeybook has a built-in payment software that integrates with its invoicing system. This lets you get paid via credit card and bank transfers. This means you don't have to worry about third-party integrations to get paid from clients.
How Much Does It Cost?
Honeybook does not offer a free plan. It only has a 7-day free trial. Then you have to switch to a paid plan.
Starter plan costs $9 per month for access to all features. But limits your total transactions to $10K
Unlimited Monthly plan costs $39 per month and it has no limits on transactions.
Benefits of Using Honeybook
The main dashboard connects all tools together to offer a better overview of the tasks
Workflow automation helps you save time spent on simpler tasks
Offers tools for creating more beautiful proposals and contracts
Has a built-in payment processing system
Downsides of Using Honeybook
Does not feature a client CRM or project management system
Expensive pricing plans
Transaction limits on the premium plan
Which App Should You Use?
Being able to do your work without the stress and anxiety of juggling multiple projects is the main purpose of using a project management tool. And this process of managing a project is different for everyone. So I encourage you to explore each tool, sign up for a free trial, and test it yourself to see which works best for you.
But, if you want my recommendation, I think Moxie is the more suitable option, especially for beginning freelancers.
Moxie is a formidable project management app for freelancers. And it's the only tool that offers a completely streamlined experience for freelancers.
Moxie also put your clients on the center stage of the project management tool, making things much simpler for organizing all of the tasks associated with each client in one place.
Then again, each app has its own unique features that make them worth the price. Moxie also has a few areas to improve. So I'll leave it up to you to decide.
Did you find this article useful? Then you should check out my book Freelance Like A Pro. It includes 21 lessons and 5 secrets from my freelance career to help you supercharge your journey as a freelancer. And I have just released the 2024 edition of the book with updated content. Click here to learn more.