One of the key factors that influence clients to hire you for a job is the way you present your proposals.
Clients pay close attention to the way you write a proposal, the design, and the content arrangement to determine how skilled you are at what you do.
It doesn't matter if you have 10 years of experience designing websites. If you can't write an effective proposal, you'll have a hard time finding clients who are willing to hire you.
However, writing and designing great proposals for clients can also be a tedious task when you're applying to multiple jobs at a time. Today, I want to help you find a solution to that problem.
In this guide, I'll show you a simpler way to make more effective freelance proposals using one of my favorite tools, Bonsai.
What Is A Freelance Proposal?
A freelance proposal is a presentation you create to pitch a project to a client. The proposal is mainly used to show a client how you would approach a project or a job.
For example, when applying for a logo design project, you can prepare a document for your proposal. In this document, you can include details about how you would approach the project, add details about your design process, what kind of things the client will get from you (eg: sketches, logo variants, mockups, source files), goals, pricing details, and more.
Freelancers who use marketplaces like UpWork to find jobs may not be familiar with proposal documents. But this is how you present your pitch when you're working with clients directly.
And it's part of what separates veteran freelancers from amateurs.
The proposal shows the client that you understand what they want out of the project. And, more importantly, it helps you to give specifics about what the client can expect from you.
5 Tips for Writing Freelance Proposals
Writing a freelance proposal involves a different process for different types of jobs and industries. The way you create a proposal for a graphic design job is different from the proposal you create for a copywriting job.
However, there are some elements you can always apply to every proposal you write. Start with these tips.
1. Use K.I.S.S. Method
Keep It Stupid, Simple. Don't try to clutter your proposal with way too much detail and information. It will not make your proposal look more impressive.
Write short sentences and format them in a simple manner so that clients can read the descriptions without getting bored or distracted.
2. Use Visuals
Don't try to fill your proposal with long paragraphs of text. Use visuals and colors to make the proposal look more attractive.
You can also use illustrations, icons, infographics, and charts to add authority and validate your key points.
3. Be Honest And Straightforward
The proposal you create provides you with an opportunity to set clear expectations for your project. To show clients what they'll get by hiring you for the job.
So always be honest about what you can and can not do. Be straightforward when adding details about your process. This will help build a relationship based on trust and honesty.
4. Include Specifics
Remember to add specific details about the project and what you will deliver to the client.
For example, if you're designing a website, mention that you provide clients with wireframes, user experience design, and all the other aspects of the project.
5. Add A Bit Of Mystery
Sometimes, it's best not to reveal everything all at once. Keep certain things a mystery. Like surprising the client with an alternate logo design or extra mockups.
How To Write Proposals
There are many different ways you can write and create proposals. But the most effective way is to create a professional document that outlines all the tasks and goals for the project.
Bonsai has a great tool for creating proposals with ease. It only takes a few clicks so you can create proposals even for multiple projects within a few minutes.
Here's how you can use Bonsai to create a proposal without effort.
Step 1: Create A New Client
First, sign into the Bonsai dashboard.
If you don't have a Bonsai account yet, you can register an account here. It offers a free trial so you can try it out without making any commitment.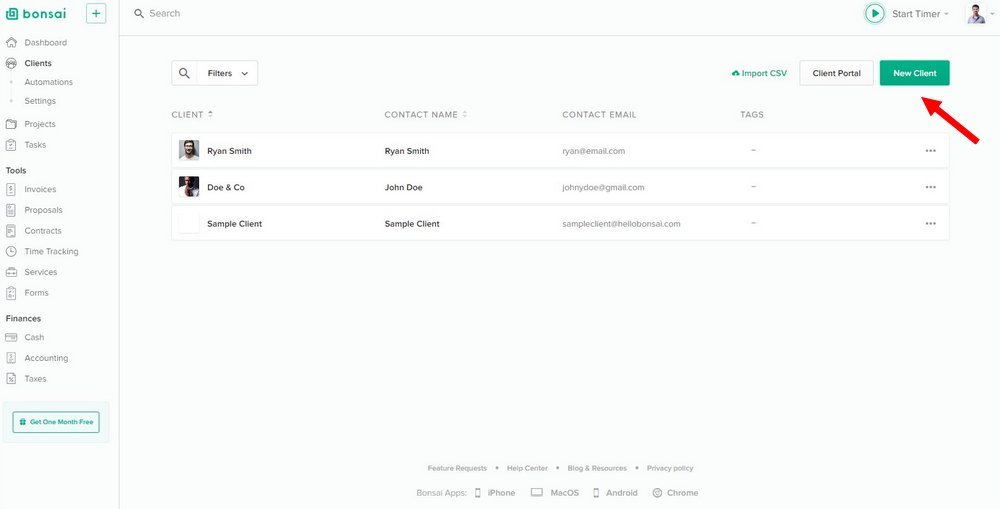 Once you're on the Bonsai Dashboard, go to the Clients tab.
Create a new client profile by adding details about the client's company, name, and email.
Step 2: Create A Project
After adding the client to your account, you can create a project for the client.
Click on the Create New Project button to get started.
Give a name for the project and click Create.
Step 3: Create A Proposal
Once you create a Project for the client, it will automatically bring you to the Projects tab. This is where you will create the proposal.
On the right-hand side of the dashboard, you'll see an option to create the proposal. Click the Add Proposal button to get started.
Now you get to choose a cool design for your proposal.
There are dozens of great template designs for you to choose from. Search and pick one that's most suitable for your project and industry.
Step 4: Edit And Customize The Proposal
Now you can customize the design of the proposal template and edit the content to add your own details.
Bonsai will automatically add details about your client and your company into this proposal template. So you won't have to enter them manually. All you have to do is copy-paste the pitch brief into the template.
You can also customize the colors, fonts, and images as well.
Step 5: Fee Structure
A very important section of this proposal is the Fee Structure. This is where you outline parts of the project and your pricing.
When the client accepts the proposal, Bonsai will use this pricing section to automatically create an invoice for the client. You'll be saving some valuable time with this feature.
Step 6: Send The Proposal
When ready, send the proposal to the client. It can be done with a single click.
Click the Send Proposal button.
And choose whether you want to send it directly to the client's email or send it as a link.
The client will be able to view your proposal directly on their browser and choose to accept it right away.
In Conclusion
There are lots of different ways you can create proposals. However, Bonsai offers a very convenient way to create proposals.
More importantly, with Bonsai, you can manage everything in one place. For example, when your proposal gets approved, Bonsai will automatically turn it into your project and create an invoice at the same time. After that, you can keep the client up-to-date on your project progress.
Bonsai is an ecosystem that brings all aspects of freelancing into one place. Sure, it comes with a price tag but it's up to you to decide if it's worth paying for all that convenient features.