Are you tired of paying freelance marketplaces a huge chunk of your earnings as platform fees?
Are you tired of having to compete with thousands of other freelancers to land a job?
Are you tired of getting jobs from terrible clients who force you to overwork for low payments?
Then it's time you switch to a freelance job board.
In this post, I'll showcase some of the best job boards you can use to find a job without having to rely on freelance marketplaces like UpWork or get into bidding wars with other freelancers.
What Is A Freelance Job Board?
A freelance job board is a place where clients post jobs to find freelancers. Think of it like the classifieds section of a newspaper.
Yes, it sounds just like a freelance marketplace. But, here's why it's different:
Job boards are mostly free to use so NO more platform fees
You don't have to signup
No need to create a profile
No need to compete in bidding wars with other freelancers
You don't have to maintain 5-star reviews and ratings
You'll find better-paying clients
Land long-term gigs
And much more
Job boards are like paradise for freelancers. It removes most of the pains we usually have when using corporate-managed marketplaces like UpWork and Freelancer. Plus, the clients who use job boards usually pay well.
However, job boards also come with a catch.
Most of the clients who use job boards to find freelancers are high-end companies, startups, and brands. Chances are they are looking for the best of the best.
This means you'll have a fair chance of landing the client only if you're an experienced and skilled freelancer. It's unlikely for a beginning freelancer to get clients from job boards.
Keep that in mind when you use these platforms. Also, make sure you improve your email game. You're going to need to write the best email proposals to get the client's attention.
LinkedIn revamped its job search tool to make it more remote-friendly. The platform is now a great place to find remote jobs for all types of freelancers.
Simply type in Remote as the location and search for any skill and you'll be able to find remote jobs from both local and international businesses.
Keep in mind that a LinkedIn profile is required to apply for a job. Make sure to fully optimize your LinkedIn profile with all the necessary details about your skills and experience before applying.
FlexJobs is one of the largest online job boards on the Internet. While the platform is mainly geared toward finding local jobs and vacancies, you can also use the site to search for remote and freelancing jobs. Simple type Remote in the location box to find remote jobs.
Similar to FlexJobs, Indeed also has a large database of clients who post local vacancies. You can use its search function to easily filter jobs that offer people to work remotely. One of the best parts about Indeed is that it includes jobs for all kinds of freelancers.
Remote.co is a large online job board that includes jobs for all types of freelancers from coders to web designers, writers, translators, and more. The platform makes it easier to browse jobs by allowing you to filter jobs based on skill level, role, and even depending on full-time or part-time work.
Jooble is a large online database of jobs in the USA. But you don't have to be living in the US to apply to jobs on this site. You can also search for jobs based on your country. And there are hundreds of remote job listings available on this platform that you can apply from anywhere in the world. There are jobs in this website for all kinds of freelancers from coders to writers and more.
Best For: Developers & Marketers
Remotive is a high-end freelance job board that's trusted by companies such as Zapier, Github, Help Scout, and more. While the jobs posted on the site are for remote workers, they are for permanent positions at reputable companies. Make sure you only apply for these jobs if you're serious about taking the responsibilities of the job.
Best For: Writers & Bloggers
One of my personal favorites, ProBlogger Jobs is a job board for freelance writers and bloggers. This job board is updated daily with new job offers from reputable blogs, companies, news websites, and more. While most of the jobs on the site are targeted toward experienced writers, you'll also find occasional posts for interns and beginners as well.
Best For: Software Developers & Marketers
RemoteOK is a job board that includes job offers mostly for marketers and developers. The site is trusted by many authoritative companies such as Zapier and X-Team. You'll also find plenty of jobs related to other categories on the site including engineering, testing, and consulting as well.
You'll find plenty of job postings for all kinds of writers from many different types of topics on this job board. Freelance Writing Gigs job board is devoted to freelance writers and bloggers. No specific level of experience is required.
Smashing Magazine is a popular website among web and graphic designers. This is the official job board of the magazine. This site also includes jobs posted by reputable companies and they mostly consist of graphic design, web design, user experience design, and user interface design jobs.
Behance Jobs board features jobs for all types of designers. This is the official job board made for Behance users. While it's not required, having a Behance account and an updated portfolio page on the site will definitely help improve your chances of landing a design job.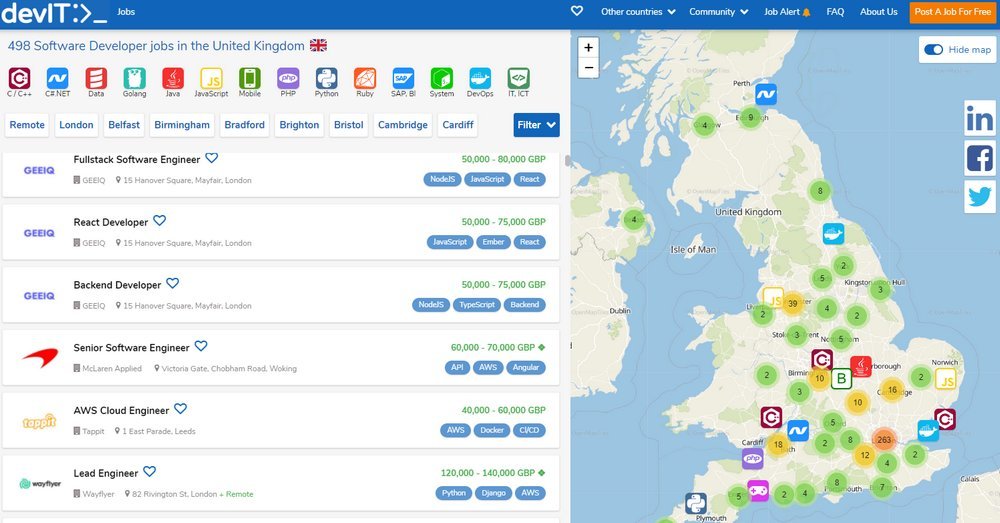 Best For: Developers & Coders
DevIT is another great online job board dedicated to remote jobs related to coding and software development. It features jobs from companies mainly from the UK but most of the jobs on the site are also remote positions. The site has a regularly updated job list so it's worth keeping it bookmarked, especially if you're a freelance developer.
Authentic Jobs board features jobs from popular agencies and companies. While the platform mostly includes jobs for developers, you'll also be able to find jobs for web designers and marketers as well. The site also allows you to filter jobs based on full-time and part-time work.
Angel List is a unique site that features jobs and positions posted by new and established startups. Developers, writers, bloggers, marketers, and many other types of freelancers can use this site to find jobs at startups. Some jobs even allow you to join startups as co-founders and share equity in the company.
Best For: Designers & Artists
Much like Behance Jobs board, Dribbble Jobs board features jobs for designers. This jobs board is regularly updated with new jobs and it allows you to directly apply to jobs. Although, having a Dribbble account will definitely help improve your chances of winning the client.
Monster is a popular online job searching website. The site is mainly focused on providing vacancies for local companies, especially in the US. But, you can use the search function to easily find remote jobs as well.
SkipTheDrive is a massive online jobs board that lets you browse jobs based on many different categories. It's most suitable for freelancers with experience in marketing, project management, engineering, data entry, and web development. But, you can find plenty of jobs in other categories as well.
Best For: Developers & Coders
CrunchBoard is the official job board made by the popular tech blog, TechCrunch. This job board mainly includes jobs related to startups and tech. If you're a web developer, software developer, or engineer, this job board is worth keeping bookmarked.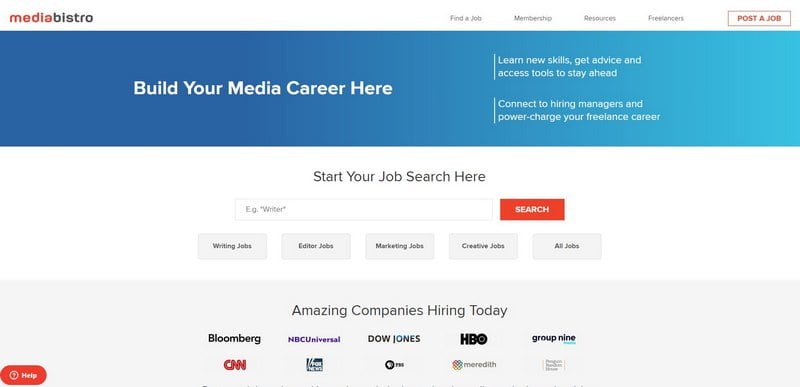 Best For: Writers & Marketers
MediaBistro is a popular and well-established job board that features freelancing gigs and permanent job vacancies related to the media industry. Freelance writers, copywriters, bloggers, and marketers can use this site to find high-paying jobs.
SimplyHired is a powerful job search engine. Using this site, you can find remote and freelancing jobs related to all kinds of niches and categories from part-time gigs, corporate consulting gigs, marketing jobs, and more.
Best For: Animators & Video Editors
If you're a freelancer working in video editing, VFX, or animations, CreativeHeads is a job board you must have in your toolkit. This site features regularly updated jobs related to video games, VFX, video editing, animating, and many other entertainment-related jobs.
Best For: Engineers & Analysts
iCrunchData is a high-quality job board that features remote and permanent jobs related to data analysis, data science, and engineering. The site often features jobs posted by reputable companies such as Shell and Disney.
Google is such a powerful tool that many people don't even know how to use it to its full potential. Searching for jobs online is much easier with Google Jobs Search. Google has created this tool specifically to curate jobs posted on other job boards and allow you to find jobs based on your skills and location.
Know of any other great job boards? Let me know and I'll check them out.
Did you find this article useful? Then you should check out my book Freelance Like A Pro. It includes 21 lessons and 5 secrets from my freelance career to help you supercharge your journey as a freelancer. And I have just released the 2024 edition of the book with updated content. Click here to learn more.