There's never been a better time to learn something new than right now.
The freelance industry is booming. The demand for remote work is rising. And finding jobs online is getting easier.
If you're wondering about what are the best skills to learn today, I have a few suggestions for you.
In this guide, I explore some of the best skills to learn to make money online. Plus I'll share a few online course suggestions to help you get started on learning each skill.
To help you get started finding practical skills to learn, I've rounded up a list of skills that have high demand in freelancing markets. As I've mentioned before, you can mix them together to learn multiple skills to have a better chance at landing jobs.
I will also suggest online courses related to each skill. I'm using Skillshare for the course suggestions because it gives you access to more than 16,000 classes for just one price. And the first two months are free. It's like Netflix for learning and way more affordable than paying for individual courses. 
Let's dive into the list.
1. App Development (Programming)
Coding, or programming, still remains as one of the highest-paying skills in the freelancing markets. An experienced developer earns up to and over $1,000 per hour.
Although, there's a reason for its' high demand. Mainly because it's not a skill you can master overnight, or even in a couple of months. It takes hundreds of hours of practice and learning to become an experienced developer.
If you're up for the challenge, programming is a skill you can learn to create a profitable career and a better future. Today, app development has the highest demand. And you can learn everything about app development using online courses and programs.
However, don't expect to master coding after taking a few online courses. It will take much, much more than that.
Recommended Class: Android App Development for Beginners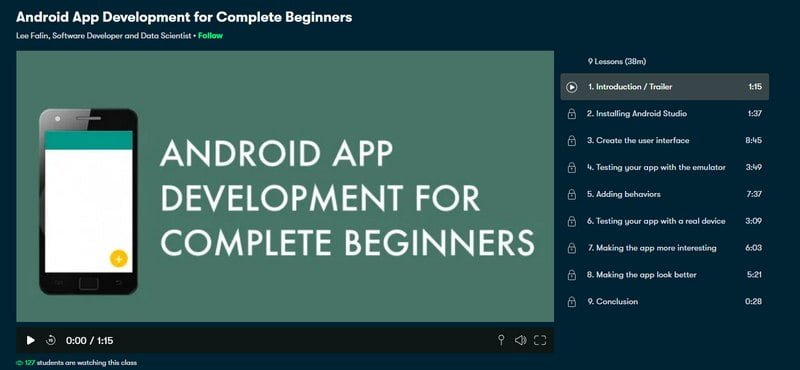 This class on app development will offer you a great start to learning to code. It's highly practical. And it will also help you understand what kind of challenges you have to face to become an app developer.
2. Copywriting
Copywriting is certainly one of the must-have skills for almost all types of professionals.
Whether you're a digital marketer, social media manager, or even a graphic designer, having the skill to properly handle words will help make your work much more effective.
You can also pursue a career as a copywriter. Thankfully, there are many different areas you can explore as a copywriter like website copywriting, blogging, eBook writing, product copywriting, and more.
Recommended Class: Copywriting For Beginners
Use this amazing class to get into the art of copywriting.
3. UX and UI Design
User Experience Design (UXD) and User Interface Design (UID) are two valuable skills that are also seeing rising demand in the current markets.
The main job of a UX designer is to help designers craft things that are user-friendly. This applies to many different products and crafts.
For example, take the smartphone you're holding on your hand. At some point, a UX designer must have decided to use a square-shaped design for smartphones. So that it's easier to hold in one hand. Can you imagine how hard it would be to hold a phone if it was made with a round design?
That's why UX design takes an important role in every design from website designs to posters, flyers, and even toilet paper.
UI designers are in charge of designing user interfaces, specifically for apps and websites. Their job is also to make user interfaces that are easier to use and more effective.
Both these skills have a high demand on freelance marketplaces. And also offers great career opportunities.
Recommended Class: User Experience Design Essentials
Try this online class on user experience design to get started in UX design. It's best to learn about UX design first before learning about UI design.
4. Video Game Development
Learning to create your own video game could soon become a soft skill for every profession. That's how big the video game industry has become. In fact, it's even bigger than Hollywood.
The future seems very bright for professionals in the gaming industry. You could also pave your way towards a lucrative career in games by first learning to create them.
You'll find plenty of job postings on freelance marketplaces related to video game development. If you want to become a freelance game developer, there's a path for you there.
But, focus on developing a career path. Creating video games. Or even joining the team of a popular game development company. It could all start with a simple online course.
Recommended Class: Make a 2D Platformer Video Game
The best way to learn is by doing. This master course allows you to learn the ins and outs of pixel art video game design with hands-on instructions. It will take you from complete beginner level to freelancer in 3 courses.
5. Digital Marketing & SEO
We see many different social networking sites rising to fame from time to time. No matter the type of content they promote, businesses will always find a way to promote their brands and products on these sites.
One thing we can be certain about in these ever-changing times is there will always be a demand for digital marketing. Especially when it comes to promoting eCommerce websites and brands online, a digital marketing team is always on the front lines.
Search Engine Optimization (SEO) is one of the many aspects of digital marketing. And it's a must-have skill for all kinds of marketers, including bloggers and essay writers. Learning how to optimize a script, a blog post, or website copy to rank higher on Google is a skill that's often required by many jobs.
Recommended Class: Introduction to SEO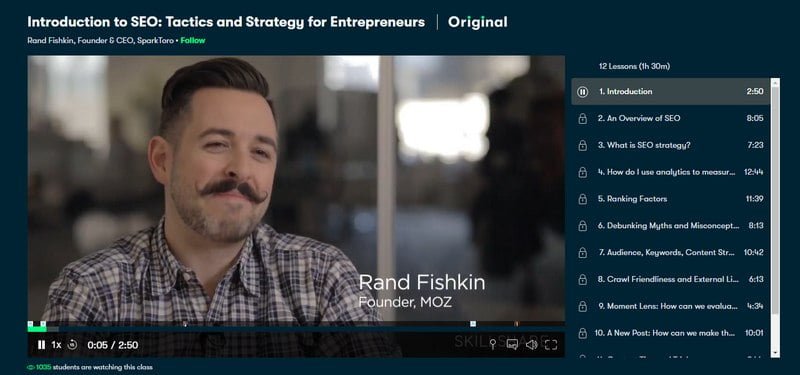 This class on Skillshare by Rand Fishkin offers great insight into how SEO works and offers a great start for you to learn more about digital marketing. As well as to how the web works.
6. Data Science
A friend of mine recently pointed out to me how powerful data science as a skill can be. It's one of the future-proof skills that will only be in more demand in the coming years.
Every business, brand, or startup collects different types of data. Such as customer data, sales statistics, competitor assessments, target audience reports, customer engagement data, etc. Data scientists take all this data and help businesses understand what they all mean. And help create projections and assessments for the business' future.
Data science is actually much more complex than that. But, it's a skill will help you build a long-lasting career. However, much like learning to code, this skill is very difficult to learn. You'll also need a good knowledge of maths as well.
Recommended Class: Data Science and Machine Learning with Python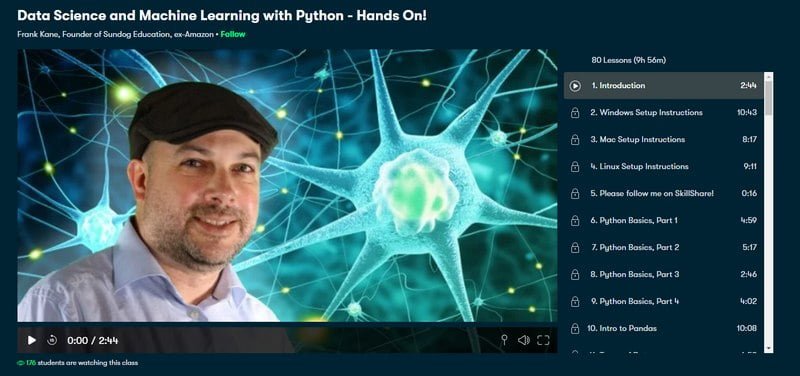 Check out this class if you're interested in getting into data science.
7. Social Media Marketing & Management
Influencer marketing is one of the most effective forms of marketing in the modern age. Why? Because influencers on social networking sites have such a strong influence over their followers that when they recommend a product, their followers don't hesitate to buy it.
This new trend in digital marketing has made social media marketing another useful skill to learn. Learning how to market products and promote brands on social networking sites is a skill you can learn quite easily using online courses.
You can also learn about social media management. In which you help businesses and brands help manage their accounts more effectively and propose strategies to grow their social channels even better.
Recommended Class: Social Media Marketing Masterclass
These classes on Skillshare will help you get into social media marketing. They are also very easy to understand and beginner-friendly.
8. Product Design
Product Design is also a field that covers many aspects. But, to be more specific, product packaging design is a skill that has a high demand on online freelance marketplaces.
As you know, the packaging of a product is what drives people to buy it. The product packaging designer's job is to help businesses design attractive packaging for their products.
This skill requires knowledge of many technical aspects of how packaging works for different kinds of products. But it's one that's worth exploring.
It's also worth mentioning that UX design, copywriting, and digital marketing also play important roles in product design as well.
Recommended Class: How to Launch Successful Products
This is a very beginner-friendly class you can take on Skillshare to learn about product design.
9. Video Editing
With many video-based social networks, such as TikTok and Instagram, taking over the Internet, there's now a rising demand for video editors.
Businesses and creators often look for professional editors to create more engaging videos for their channels. This is your chance to shine.
Video editing is not a complex skill but it requires skill to be a good editor. If you have a good enough computer that can handle video editing workloads, you can learn this skill in just a couple of weeks.
Recommended Class: Video Editing with Adobe Premiere Pro for Beginners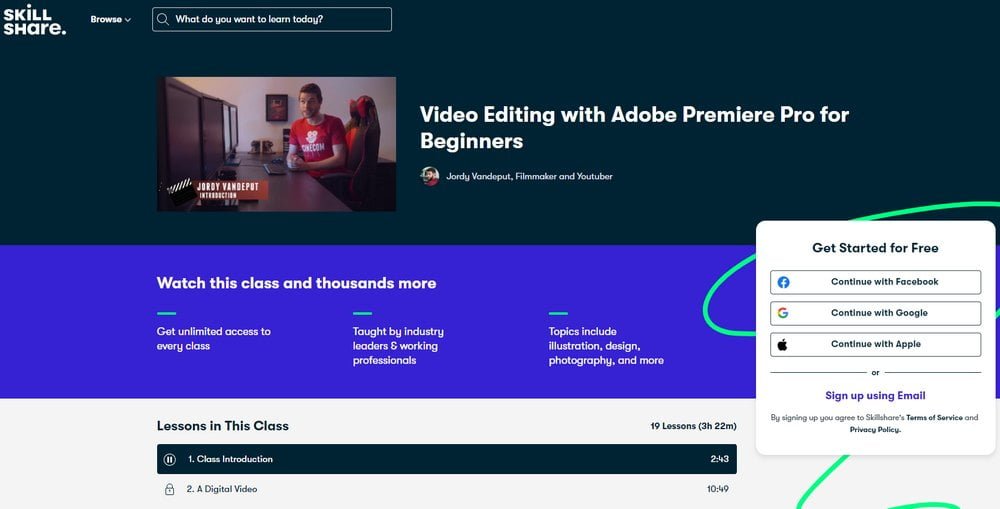 10. eCommerce
Shopify is among the top 10 most in-demand tech skills of 2022, according to Upwork.
When it comes to selling products online, Shopify is the number one platform most people turn to. With many social media platforms to promote their products, influencers often use eCommerce platforms like Shopify to sell their merchandise.
And it's the go-to platform for dropshipping as well.
Since the demand for Shopify is at an all-time high, now is a great time to learn skills related to the platform. Learn how to build online stores on Shopify, how to optimize stores for SEO, or even build custom themes for Shopify.
Recommended Class: Build Your Site & Shop: Beginner's Guide to Shopify & Website Design
11. Business Analytics
Analytics plays an important role in the growth of any business.
It's with analytics you can recognize opportunities for growing a business as well as find weak points of a product.
For example, when a business conducts a survey, it's with the help of analytics the business can determine and analyze all the data collected from the survey.
This is where experts with Excel skills come to help. And there's good demand for Excel analytics.
Microsoft Excel is a great skill you can master in a very short time. And it will provide you with a ton of opportunities in the freelance marketplace.
Recommended Class: Microsoft Excel 2016 Bootcamp – Zero to Hero Training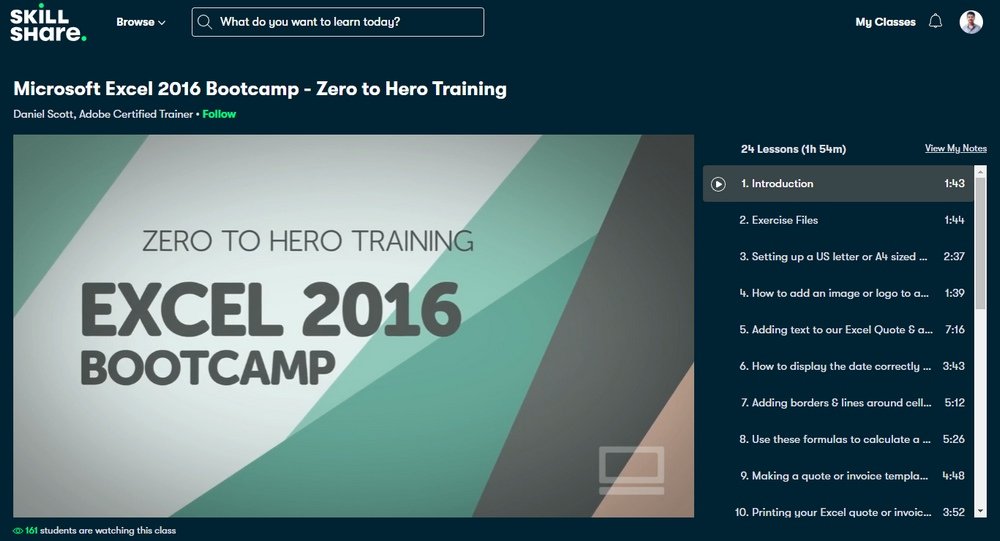 12. AI & Prompt Engineering
With the advancements in AI tools like ChatGPT and Bard, there are new opportunities opening up in freelance marketplaces.
A new job was created as a result of AI tools called prompt engineering. This job involves using AI tools to help other businesses create content, do research, find data, and more. As a prompt engineer, your job is to control the AI tool by writing prompts.
There's a certain skill involved in writing effective prompts to get the best results from these AI tools. And that's what prompt engineering is all about. Learn to master this skill and your future as a freelancer will be secure.
Recommended Class: ChatGPT Ultimate Guide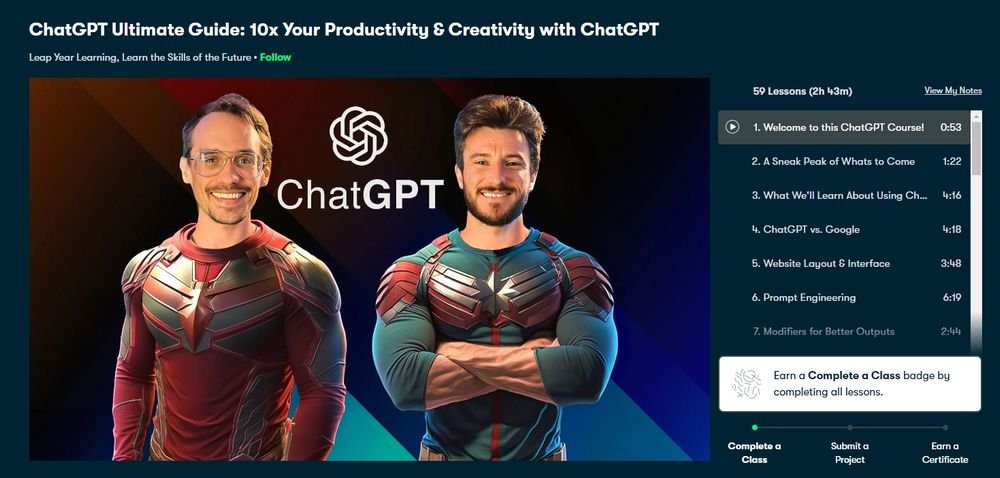 Conclusion 
When it comes to applying for jobs online, you need to be patient. Don't rush to apply for jobs. Instead, take time to develop a skill set that compliments each other. It will help you deliver better results. And eventually, land high-paying jobs with satisfied clients who will give you long-term contracts.
Keep learning and never stop improving your skills.
Did you find this article useful? Then you should check out my book Freelance Like A Pro. It includes 21 lessons and 5 secrets from my freelance career to help you supercharge your journey as a freelancer. And I have just released the 2024 edition of the book with updated content. Click here to learn more.