Most experienced freelancers will likely tell you not to rely on freelancing marketplaces to find work.
It's good advice because those sites, like UpWork, pressure you to compete with other freelancers and lower your rates to win jobs.
But, the truth is, we all have to start somewhere and the chances are even the most experienced freelancers have used a freelancing site at some point in their career to score a project or two.
The first freelancing site I used was Elance (now UpWork). I didn't get many jobs on this platform, but I used it to connect with clients and build long-term partnerships. At the time, there wasn't too much competition on Elance so landing a job was easier than it is today.
If you're new to freelancing, sites like UpWork, PeoplePerHour, Fiverr, or Freelancer.com won't do you any good. It's best to look for a site with less competition to improve your chances of making money early on in your career.
I've handpicked a few new freelancing sites that might help you get started in freelancing more easily. These recently launched sites have low competition and will allow you to build your reputation without having to compete for low prices.
BONUS: Join my FREE email course to learn valuable tips, secrets, and expert advice on building a successful freelance career.
Worksome is a new and a reputable freelancing marketplace that only accepts a few select number of skilled freelancers. It also heavily promotes local freelancers in the UK. The platform only has a little over 6,000 freelancers at the moment.
Rev is a platform that provides transcription and caption services to podcasters and YouTubers. The platform accepts transcribers to the platform. If you're good at listening to audio speech and converting them into text, this platform is a great starting point for getting into transcription services.
Microlancer is a unique freelancing platform that rewards freelancers with Bitcoin instead of money. The platform constantly gets updated with new tasks and jobs that once completed pays with Bitcoin. This may not be a suitable platform for all freelancers. If you're interested in investing on Bitcoin, this may give you a chance to earn Bitcoin in an easier way.
Freelance My Way is a quality platform that features a select number of freelancers handpicked by its team. The platform is also constantly updated with new jobs and it's very beginner-friendly as well.
Zeerk is a 5-year-old freelancing site, slowly growing with new freelancers every day. The site features a system that allows you to price your services from $5 to $500. You can register and start selling for free, but Zeerk will collect an 8% to 20% commission from each of your sale.
Twine is a fresh and a rising freelance platform with over 175,000 freelancers working in design, music, and film industries. The platform is best for creative professionals offering services such as graphic design, illustration, music, film, game design, etc. Twine is completely free to use and it doesn't charge any kind of a fee from freelancers.
CloudPeeps is a high-quality site that features a small community of established freelancers. Freelancers can join the site for free. However, the platform will take a 15% cut from each job you successfully deliver.
GlassDoor is not a freelance platform, it's a job board that connects employers with freelancers. The site allows you to find jobs related to your industry near your local area and apply for the jobs. GlassDoor has a massive directory that will guarantee a freelancing gig for you.
This UK based website offers two options for freelancers: A Free account with limited features or a £11.99 per month premium plan which allows users to bid on an unlimited number of projects, rank higher on the charts, access to business directories, and more.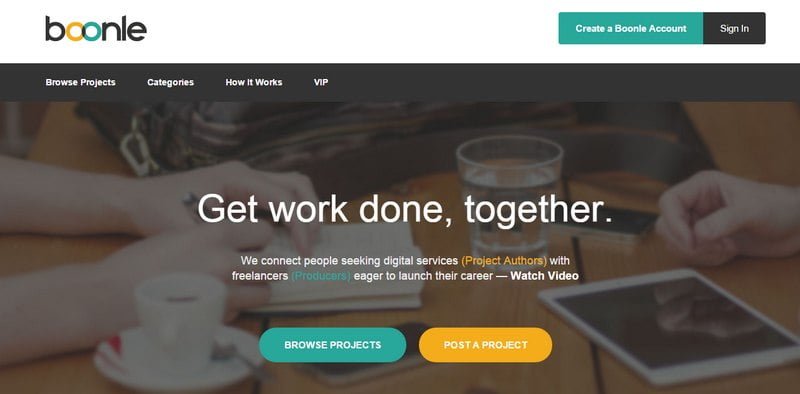 Boonle is another interesting site which works as a collaboration platform for creative minded people. It's a place for freelancers and creators to team up with authors to help them with their work. In return, they will leave you a generous tip. Of course, the platform will take a 30% cut from that tip as well.
Jobs Outsource features work for both online and offline freelancers. The platform includes services for everything from copywriters to virtual assistants, gardeners, handymen, and more. The site has membership plans, starting from a Free plan with limited access and 10% platform fee and up to a $199 plan with full access and a 3% platform fee.
Creative Group is a creative staffing agency which connects freelancers with marketing, advertising, and public relations agencies. If you're a freelancer from the US, you can submit your CV through the site and get access to their offers.
This is a brand new freelancing site and it's currently only available in Canada, United States, UK, and Australia. If you're a freelancer living in any of those countries, it's worth giving this platform a try.
Work N Hire is yet another freelancing site from India, which uses a credit system for applying for jobs. You get 20 free proposals every month. Adding an additional 5 credits will cost you 50 INR.
More Fresh & Newer Sites
Another great way to get ahead of your competition is to join new sites as soon as they go live. Here are a few other brand new sites that have just launched, or about to launch. Keep an eye out for these.
Reality Check: I'm not affiliated with any of these freelancing sites and I haven't tested out their services. So, proceed with caution. Some of these sites are completely new and they might even disappear at any time without a warning. Read each site's terms, conditions, and privacy statements. Choose wisely.
Did you find this article useful? Then you should check out my book Freelance Like A Pro. It includes 21 lessons and 5 secrets from my freelance career to help you supercharge your journey as a freelancer. Click here to learn more.