You're lucky if you're able to receive payments via PayPal.
Because the popular online payment service still doesn't fully support many developing countries in the world. Including Pakistan, Bangladesh, Lebanon, Iran, Sri Lanka, and many more.
If you're like me and tired of searching for a solid PayPal alternative, this post is for you.
I have a PayPal account connected to my credit card. I'm able to use my PayPal to buy stuff online through sites like eBay. But, PayPal doesn't allow me to receive payments from someone else. And I know for a fact that people in many other countries have the same problem.
As a freelancer, I was forced to find PayPal alternatives for accepting payments from my clients.
Over the years I've tried many different payment systems to receive payments. The followings are some of the best payment systems that I've personally used, including a few I still use to this day.
Best For: Beginners and advanced users.
Platform Fee: Free for receiving.
Downsides: Limited availability.
I first heard about TransferWise (now Wise) through a news article when Richard Branson invested in this new startup. But, I haven't paid any attention to the platform until one of my clients referred me to it. And I couldn't believe how amazing Wise really is.
"Banks could charge you up to 5% in hidden costs when sending money abroad. TransferWise is up to 8x cheaper on surveyed currency routes."
Believe it or not, it's actually true. I've received about 5-10% more when receiving payments via Wise than any other payment method I've used.
Once you register a Wise account, you can send a payment request to your client with the required details of your bank account. Then the client can pay with their credit card.
Note that even though a Wise account is not required for someone to receive a payment, the client will have to register an account to send payments. Considering the platform's attractive rates and benefits, it won't be difficult to get your clients to sign up with Wise.
Once the payment has been processed, the money will get transferred directly to your bank account. No platform fees or transaction fees. That will be charged to your client.
The only downside to using Wise is that the platform is still new and only supports a limited number of countries. It's active in Europe but not fully supported in the US. You can check out the list of supported currencies and countries here.
Best For: Beginners and advanced users.
Platform Fee: 3% for transactions and $25 per year.
Downsides: Expensive platform fee.
Payoneer is one of the most popular PayPal alternatives available today. It's available worldwide and it's quite popular among freelancers and people in developing countries.
Right now, TransferWise is my go-to choice for receiving payments. But, when it's not available to a client I'm working with, I switch to Payoneer. This platform has a cool feature that makes it easier for requesting and receiving payments.
Payoneer allows you to instantly request a payment from a client. Then the client receives your payment request via an email with a link to make the payment. And they can pay it directly with their credit card without having to register for a Payoneer account. The client will be charged 3% of the amount for the transaction.
The platform also sends reminders to clients when they try to ignore a payment request. A useful feature for freelancers to get paid on time.
You can then transfer your money to your bank account or use the physical Payoneer credit card, which you'll receive upon registering the account, to withdraw the money from an ATM machine.
The biggest downside to using Payoneer is that the platform charges you a $25 annual fee for maintaining your account. Otherwise, Payoneer is perfect for freelancers.
Note: Sign up with Payoneer using this link and you'll receive an extra $25 once your account reaches $100 worth of transactions.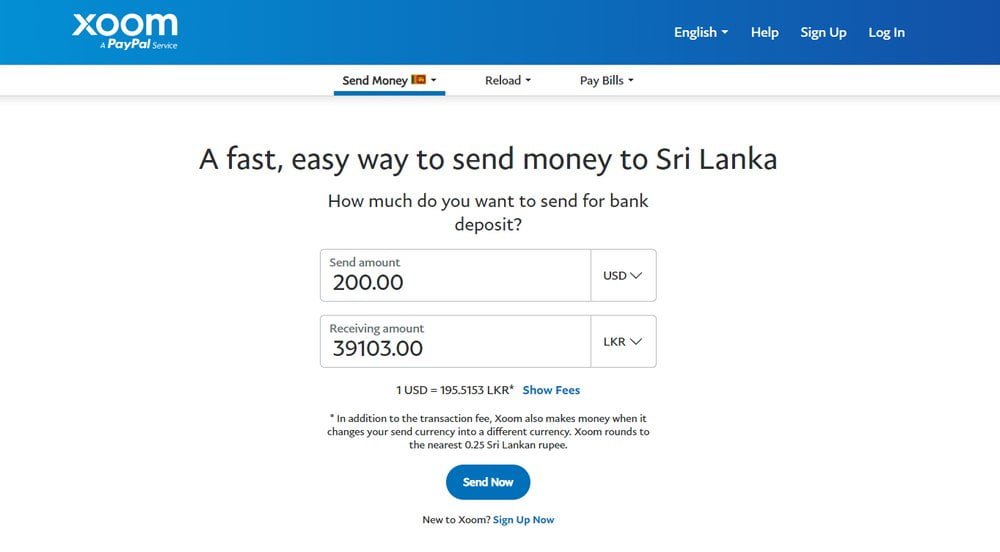 Best For: Beginners
Platform Fee: Free for receiving
Downsides: Can be difficult to use for the clients
I've recently discovered this website and I was surprised to find out that it's developed by PayPal. This platform allows your clients to send payments using their PayPal balance and send them directly to your bank account.
I used this service once and it took a long time, more than 15 days for me to receive the money in my bank. I wouldn't recommend this service. But, if you have no other choice and the client insists on using PayPal, you can ask them to use Xoom to send payments to your bank account.
You don't need to have an account on Xoom and neither does your client. The client can login using their PayPal account.
Best For: Beginners.
Platform Fee: Free for receiving.
Downsides: Limits on the receivable amount.
Skrill (previously Moneybookers) is a lesser-known PayPal competitor that's mainly popular among online gambling and betting users. Although, the platform provides a smooth experience for freelancers as well.
If you can convince your clients to join Skrill, you can receive payment via the platform for free. However, when you withdraw your money to your bank account, Skrill will charge a one-time fee per transaction. This amount differs based on the user's country. Visit the fees page to check the amount the platform charge based on your country.
Another downside to using the platform is that it doesn't allow you to receive or withdraw large amounts of money from the very beginning. In order to remove those limits and receive large amounts of money (such as $2,000 USD), you'll have to verify your identity by uploading a document of your personal identification card, passport, or a statement from your bank.
I've used Skrill for a long time. After discovering TransferWise, I decided to retire my account. Consider Skrill if you're not satisfied with both TransferWise and Payoneer.
Best For: Advanced users.
Platform Fee:9% + 30¢.
Downsides: Limited availability and difficulty to implement.
Stripe is the one payment system that I haven't used myself because it's not available in my country. But, several fellow freelancers claim Stripe is a great way to receive payments from clients.
You can't use Stripe like other payment systems. You can't use it to request payments from clients but clients can't use the platform to send you payments. You'll have to send your clients to a Stripe checkout system to allow them to pay with their credit cards.
If you have a website, you can integrate Stripe checkout button into your website page. However, the easiest way to use Stripe is to use invoicing software, like InvoiceNinja, and integrate your Stripe account with the invoicing software to request payments from your clients. That way, your clients will be able to pay you directly through your invoices.
Visit here to see if Stripe is available in your country.
Best For: Advanced users.
Platform Fee: Depends on location.
Downsides: Difficult to implement and chargebacks.
2Checkout is a payment processor much similar to Stripe. It also doesn't support direct transactions or payment requests. So, you'll have to use invoicing software to receive payments.
A great benefit of using 2Checkout is that, in addition to processing payments via credit cards, 2Checkout allows you to accept payments via PayPal even when you don't have PayPal. Your earnings will be stored inside 2Checkout and you can withdraw them to your bank account once the total amount reaches $300.
There are clients who are reluctant to make payments with credit cards (especially brands and corporations). They only make payments with PayPal. When that happens, you can use 2Checkout to get paid.
I used 2Checkout to process a couple of payments in the early days of my freelance career. But haven't used it a lot lately.
2Checkout has different processing rates for different countries and it also charges a $25 fee for chargebacks for fraudulent transactions. Visit here to check the rates available for your country.
Best For: Advanced users
Platform Fee: Depends on your wallet app
Downsides: Difficult to implement and process
Bitcoin is one of the best payment methods you can use. But, it's also one of the most difficult payment methods to setup and gets started. First, you need to get a Bitcoin wallet and on top of that, you need to have clients who are familiar with Bitcoin payments as well.
Using Bitcoin also involves a risk. Since Bitcoin prices always fluctuate, you risk getting underpaid. However, if you keep your Bitcoin in the wallet, you also stand a chance to increase your Bitcoin value as well. I personally haven't used Bitcoin. Some say it's the future of money. So I'm considering looking into it.
Bitcoin is slowly catching up with the freelance industry. There are even freelance marketplace websites that offer freelance jobs that pay with Bitcoin.
In Conclusion
So, what's the best alternative to PayPal? Well, I must choose TransferWise. If it's available in your country, go for it. Otherwise, Payoneer because it allows you to easily request payments from clients. Getting paid is much easier that way.
Hopefully, PayPal will soon roll out all of its features to the rest of the countries around the world. Although, I've been waiting for that to happen for over 6 years. Until then, let's look for better PayPal competitors.
Know of any other great payment services? Let me know in the comments.