Struggling to find freelance work?
Tired of competing with freelancers on sites like UpWork?
Don't worry, by the time you're done reading this article, you'll have many options to find freelance work online.
Only freelancers know the real struggle that goes on the other side of the computer screens. Despite what most people think, it's not always sunshine and rainbows for freelancers.
One week you make $1,000 and the next week you've got no jobs to work on. It happens to the best of us. But, the question is —What are you willing to do about it?
Are you going to wait for a client to contact you and hand over a job on a silver platter? Or are you going to buckle down and look for your next freelancing job?
You've got to work hard to consistently find work in the freelancing world. Here are a few strategies to make that work a little easier.
Instead of listing down a bunch of websites, I'll show you how to use each of these sites and tools in this list to find you a freelance job within a few minutes.
Ready to get started on your job hunt? Good, then let's get to it!
#1 Join A Freelancing Platform
First, let's be done with the most obvious strategy: Freelancing sites.
Find a site, register, create your profile, and start looking for jobs. Easy, right? Well, not exactly.
Freelancing sites are always swarming with potential clients. Finding a job on one of these sites is easy as cake. But, most of the sites are also filled with millions of freelancers who compete with each other to land the job.
So, if you're new to this game, the key to winning is finding a fairly new freelancing site with low competition, showcasing your skill set like a pro, and winning clients with a killer proposal.
Check out this list full of 21+ lesser-known freelance sites and pick a site that's new and on the rise. Then read this post to learn how to beat your competition.
#2 Check The Careers Sections
When visiting websites, you may have noticed a link at the footer of most websites that says "We're Hiring" Or "Careers" or "Work With Us".
These pages detail the positions currently available at a company. This means you can apply for these jobs.
Visit websites related to your industry and check to see if they're hiring.
For example, if you're a marketer or a designer, you can try visiting a startup website like Canva to see if they have any job positions available at the moment. Companies like Canva has specific sections for remote jobs as well.
#3 Write For A Blog
If you're a writer, you can instantly land a gig by writing for a blog.
That's right! There are hundreds of blogs out there that pay people to write for their blogs. Some blogs even pay over $100 per blog post.
Of course, these are well-established blogs. You'll have to be a really good writer to land a gig on one of these sites.
You can start by checking out these blogs that pay writers to publish blog posts.
#4 Join A Freelance Agency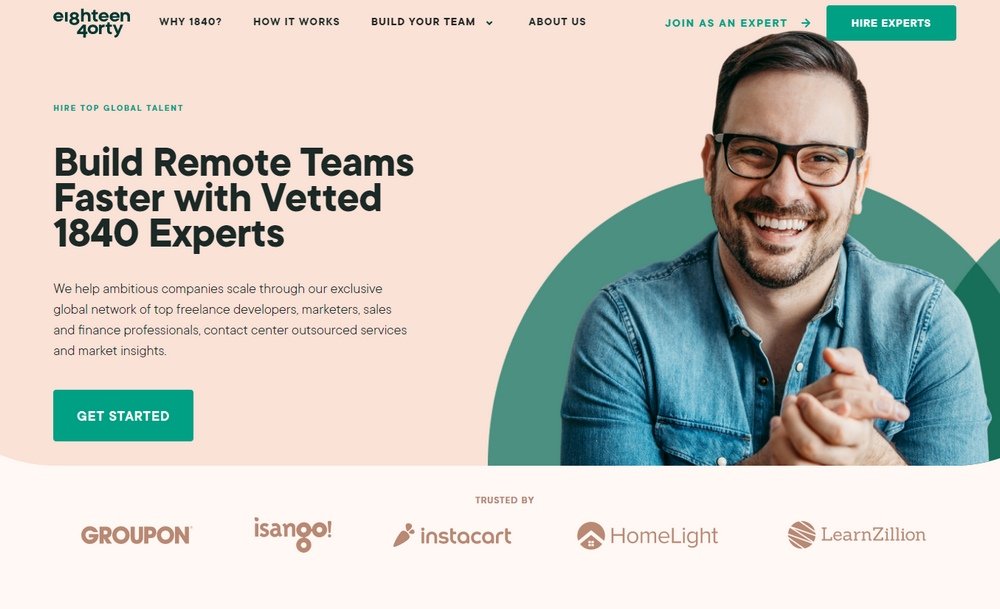 Another great way to find freelance work is to join a freelance agency.
When you join an agency, they will provide the work for you. This means you don't have to go looking for jobs yourself. All you have to do is deliver the work on time.
Freelance agencies like 1840 & Company are great for freelance developers, marketers, and finance professionals to join and receive a steady flow of work.
Of course, you'll need to have a solid portfolio and experience to join such an agency.
#5 Behance & Dribbble Jobs
We all know about Behance and Dribbble as two of the biggest networking platforms for creative professionals. But, did you know that you can also find jobs through these platforms?
Behance Joblist is the ideal place for finding jobs related to a wide variety of industries from copywriting to graphic design, photography and more.
Dribbble Jobs board is for designers. You'll find it always filled with jobs from reputable brands like Hotjar and Gameloft.
Simply search the list, find a job you like, and apply for it.
If you're an illustrator or a designer, be sure to read this post to learn 10 easy ways to make money online as well.
#6 LinkedIn Jobs
If you've got a professional profile on LinkedIn, then you should check out LinkedIn Jobs to find a quick freelance job.
To find a job near your location, just select your country from the list and type in the job position you're looking for. You can also use Posted Date and Job Function filters to narrow the search.
Set the Location to Anywhere and type Remote into the keyword field to find remote work.
You can look up recruiters from different companies on LinkedIn and ask if there are any remote positions or work available.
#7 Find Niche Job Boards
Plenty of small websites have their own little job boards. These sites usually have lots of quality job listings too. Here are a few sites you can check out:
If you can't find anything helpful in those sites, just head over to Google and type these keywords into the search bar with the quotation marks "jobs board" "web designer" and hit enter.
The results will show you plenty of sites with job boards. Replace "web designer" with your own keywords.
#8 Use A Paid Service
If you really need to find a job right now and don't have enough time to search for gigs on multiple freelance marketplaces, you can use a paid service like Vollna to instantly find a list of jobs for you.
These services look up freelance job sites, job boards, and marketplaces to find relevant job postings that match your skills and experience. And then it will notify you whenever a new job is available for you to apply. They can be a bit expensive, but sometimes it's easier to invest $10 a month to get new job notifications than spend dozens of hours searching for jobs.
#9 Twitter Advanced Search
Today, almost all businesses around the world have a Twitter account. And when they're looking to recruit fresh blood, the first thing they do is post it on their Twitter. You just have to know how to look for them.
This is easy with Twitter's Advanced Search tool. In the keywords section, type in the title of the job you're seeking. For this example, I searched "designer" jobs.
Use a few keywords like "Wanted" or "Hiring" to make the search more specific. And type in several hashtags like #gig #freelancer #job.
Hit the Search button and voilà! Found hundreds of job listings in there.
#10 Browse Craigslist
That's right! Craigslist is not all about rooms for rent and buying used car parts. It's also a great place for finding freelance jobs. Here, I'll show you how.
Step 1: Go to Craigslist and choose a country and then the city that you want to find a job in. (Major cities in the US have the most remote job listings).
Step 2: Then check the Jobs and Temp Jobs sections to find work related to your industry.
Step 3: Type in a keyword to find specific jobs like"Wanted" or "Hiring", just like how you did on Twitter.
Step 4: After finding a job, click on the Reply button to send an email to the person who posted the job.
#11 Hacker News
Whoishiring submissions on Hacker News can also be a great way to find work.
Pick a listing in there and post your information to attract potential clients. Or look for a job posted by a client.
Use SEEKING WORK keyword to post your information or hit Ctrl + F on your keyboard and type SEEKING FREELANCER to find jobs posted by businesses.
#12 Facebook Groups
Facebook groups are still quite popular among both freelancers and business owners. Log in to your Facebook account and start searching.
Type in the keyword for your industry and find related groups under the search suggestions or click "show all search results" to find more groups.
In this example, I typed in "freelance jobs" into my Facebook search bar and a bunch of massive groups popped up and they were filled with a lot of freelance gigs.
#13 Reach Out To Your Favorite Influencer
If you have a favorite content creator on YouTube, Instagram, TikTok, or any other social network that you religiously follow, send them an email or DM to see if they have any work that you could help out with.
Now, for this method to work, you have to actually be a true fan of this content creator and obsessed with their work. If you've been watching their videos and reading articles for a long time, you should know the areas you could help them to improve.
Make a list of your suggestions and send them an email. If they reject your email, try again and again.
This actually works. I'll give you a couple of examples. YouTuber Graham Stephan received an email from Jack in the same way that I described above. They now do a podcast together. YouTuber Ali Abdaal also found his now manager the same way.
Gary Vaynerchuk also has a program where he hires freelancers from around the world. It's worth checking it out.
#14 Search Job Forums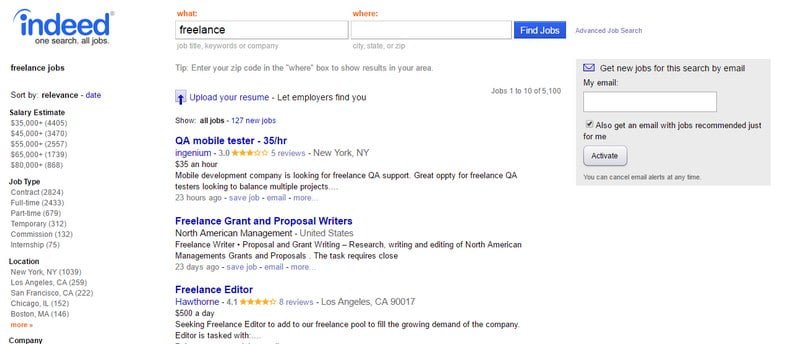 If you're new to freelancing, then you may not be familiar with job forums. Back in the old days, before oDesk and Elance, these job forums were the saviors that gave most freelancers paid jobs.
Those sites are still active and hundreds of new job listings are published every day.
Just go over to a job forum and use the search bar to find a job. Here are a few job forum sites you can start with:
#15 Explore AngelList
AngelList is a platform that curates job openings from startups. This site includes job positions from both popular startups and new companies.
If you already have work experience, this site is a great place to find a high-paying job.
AngelList includes remote jobs and on-location jobs. There are jobs that pay with equity as well.
#16 Ask A Fellow Freelancer
Sometimes, when you're trying to find something, all you have to do is ask.
There are lots of friendly freelancers out there. Most of them know a lot about the industry and great places for finding work. Heck, they probably even reject most of the jobs that come in their way because of their busy schedules.
So, go find an established freelancer in your industry. You can search for them on social networks like Twitter and Facebook or browse a freelancing site like UpWork. Find their email or Facebook account and drop them a nice message asking if they could hook you up with a job.
#17 Send A Cold Email
Use Twitter, Facebook, or a site like AgelList to find a new startup or a small business website, go over to their contact page and send them a casual email explaining how you can help them grow their company.
Here's a simple email template you can use (you can customize the template to fit your industry) :
Hi [name],
I stumbled upon your website while browsing for [industry related topic] and I must say it looks fantastic. Especially the [mention a detail] looks very professional.
I just happened to be a web designer as well and I couldn't help but notice a few issues with the website's [mention a few areas you think you can improve].
I have over 5 years of experience in UXD and web design, I'd be happy to help you fix those issues so that you can serve your customers better.
Let me know if you'd like me to explain how I can help improve your site.
Kind regards,
John Doe,
Web Designer / Developer.
MyWebsite.com  
I described the process of researching and outreaching potential clients in detail in a previous article. Be sure to read it.
In Conclusion
There are many ways you can find freelance work. And it's worth mentioning that it's only difficult in the beginning. Once you get familiar with the way things work, it will be much easier to find work online. So don't get discouraged. Keep pushing forward!
Do you know any other strategies for finding freelance jobs? Then feel free to leave a comment below and share them with the rest of the community.
Did you find this article useful? Then you should check out my book Freelance Like A Pro. It includes 21 lessons and 5 secrets from my freelance career to help you supercharge your journey as a freelancer. And I have just released the 2024 edition of the book with updated content. Click here to learn more.