Some people (mostly lazy ones) say that you can't control your success. Well, that's not true.
As a freelancer, there are a couple of things you can do to improve your chances of finding success:
#1 Work Hard
#2 Learn New Skills
#3 Keep Improving Your Skills
"If you want to be truly successful invest in yourself to get the knowledge you need to find your unique factor. When you find it and focus on it and persevere your success will blossom," – Sydney Madwed.
Ever since I discovered Skillshare and Udemy, I've been learning a lot of new things. I enrolled in as many courses as I can find and I sort of got addicted to learning. It's been the best investment I've made in my life.
In fact, I even managed to bump up my prices thanks to the skills I've learned and the confidence I gained from the courses on these platforms. I learned to communicate better, find clients who pay more, improve productivity, and even picked up a few new extra skills that boosted my freelance writing career.
In this article, I share with you some of the best courses from Udemy and Skillshare for freelancers. These courses are for improving your general knowledge. So, the courses are suitable for all types of freelancers.
Courses From Skillshare
Unlike Udemy, where you have to buy courses individually, on Skillshare you get access to over 22,000+ classes for a single monthly subscription. This means, for $8 per month or $39 per year, you can learn all the courses below and more for the same price.
Or you can register with Skillshare using this exclusive link and you'll get unlimited premium access for all 14,000+ classes for FREE for 14 days. That'll give you plenty of time to learn many of these courses.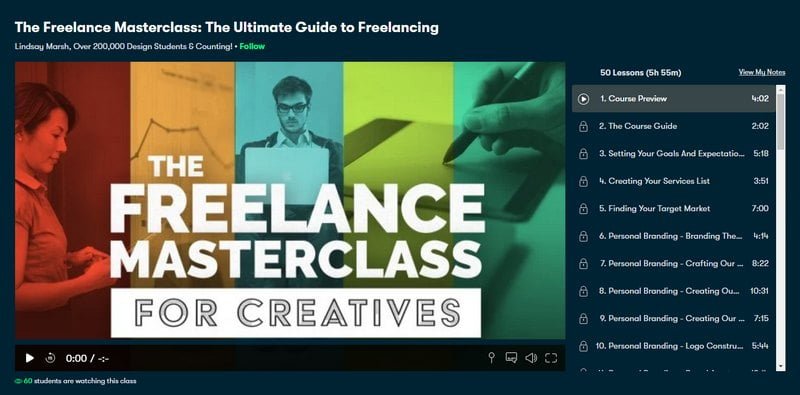 This is a complete masterclass course that will teach you everything you need to know about freelancing to start your career. The course is designed with creatives in mind, especially for graphic designers, web designers, illustrators, and photographers.
If you're not sure about freelancing or want a path to follow to start your career, this course will definitely help you get a head-start.
UpWork is so popular right now that even getting your account approved is a challenge. This course will prepare to create a great profile on UpWork and even get it approved much faster. The course will even teach you how to land gigs and more.
The course is taught by Christopher Dodd. He's an experienced web developer who has used UpWork to find jobs for many years. The course contains lessons from his experience that are invaluable to beginners.
Interested in creating a gig on Fiverr? Then this course is a must-watch for you. While Fiverr can be a bad platform for freelancers, you can surely use it to learn from experience and even land your first few clients.
In this course, a Fiverr seller with over 5 years of experience shares her experience and effective tips on how Fiverr works and how you can get your gigs to rank higher in search.
Once you get started in freelancing and look for jobs, you'll often come across clients who scam you for work and never pay for the job. Luckily, there are ways to avoid such clients. This course will teach you how.
This course is taught by Annica Lydenberg, a freelance illustrator with years of experience. She shares her best tips on how to avoid bad clients and get paid on time.
All the courses on Skillshare are offered to you in small sizes. Which means they are easier to digest and learn.
This course, taught by Margot Harrington who has been running her own studio for 6 years, is only one hour long. But, the course packs a lot of great tips and advice for newbie freelancers, including client management, how to manage a budget, the financial side of the freelance work, and more.
If you're still considering going freelance or just getting started, this course will give you all the information you need to learn how to properly get started as a freelancer.
This course is all about learning to take the first steps to becoming a freelancer.
This course is all about learning to make the most of your time. Through this 1-hour course, Tanner Christensen, a blogger and product designer at Facebook, shares some hacks on forming useful habits for turning your ideas into action and planning a roadmap for success.
This is a short free course on how to become a successful freelance writer in the age of content marketing. The course mainly covers the basics of content marketing and also includes few tips on pitching to new clients and marketing yourself as a freelancer.
This is yet another free, but an informational, course that teaches new freelancers about coming up with a clear mission for work, crafting a portfolio, marketing on social media, and finding financial success through freelancing.
Courses From Udemy
The great thing about learning Udemy is that when you buy a course on this platform, you get to keep it for the rest of your life and access it whenever you want. The courses are also quite affordable so I usually buy a course whenever I earn some extra cash.
Here are some of my favorite courses for freelancers from Udemy.
Price: $45
Lectures: 87
Video:  3 Hours
Certificate of Completion: Yes
Seth Godin is one of my favorite idols. He's not only a successful freelancer with decades of experience, but he's also a great thinker and author of 18 best-selling books.
When he announced this new course, I almost jumped at the chance to learn from his experience. I've already streamed this course three times and I would highly recommend it to both new and experienced freelancers.
In this course, Seth shares all of his experience as a freelancer to give you all the motivation you need to get started as a freelancer and he also gives some valuable tips, like the importance of collecting testimonials and pricing your services.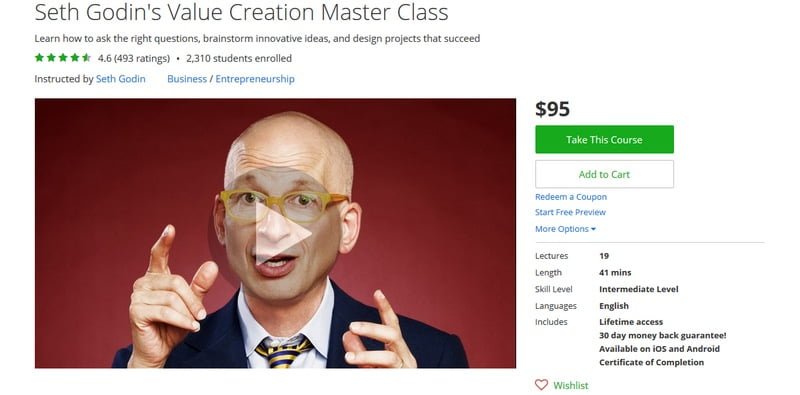 Price: $95
Lectures: 19
Video: 41 Minutes
Certificate of Completion: Yes
After going through Seth Godin's first freelancer course on Udemy and learning so much from his years of experience, I didn't hesitate for a second to buy his new course. Everything that comes out of this man's mouth is pure gold and I can't stress you enough how valuable his advice really is.
Seth Godin's new course is all about creating services and products that offer value and winning more business through the process. The course isn't created targeting just freelancers, but its content, advice, and tips can be applied to building a better business as a freelancer as well.
Price: $100
Lectures: 20
Video:  40 Minutes
Certificate of Completion: Yes
After finishing the first course, I couldn't get enough of Seth Godin. His advice is so relevant and easy to understand that I just had to get this course to learn more.
This course is all about leading yourself into greatness, following your passion, and taking control of your career. The lessons in this course will help you restructure your future plans in a better way to find success.
Price: $95
Lectures: 59
Video:  11 Hours
Certificate of Completion: Yes
I took this course when I was learning about web design and to better understand the things that go into designing a website that appeals to all users. But, I was able to learn far more than that from this course.
Once you're done with this course, you'll develop a new vision, a new way of thinking to look at the world. How things are made and why they are made that way. And, more importantly, you'll learn to design better websites, graphics, write better copy, and do much more from this course.
Price: $195
Lectures: 187
Video:5 Hours
Certificate of Completion: Yes
It's weird that User Experience Design has nothing (maybe a little something) to do with my writing, but somehow I'm fascinated by this subject. Although, in a way, it has helped me get more work as a freelance writer, especially when writing for startups and design related blogs.
I learned a lot from Joe Natoli's UX fundamentals course, so I was curious and excited at the same time to take my knowledge to the next level. I subscribed for his new course with a little hesitation. After all, it's a master course. Am I ready for this?
Turns out, this course is much more informative and delightful than Natoli's first course. This course also covers the topic of User Experience in more detail through 187 lectures that span over 23 hours. A course well worth its cost.
Price: $50
Lectures: 50
Video:  1.5 Hours
Certificate of Completion: Yes
In order to succeed as a freelancer, you need to be able to make a name for yourself and be known all over the web. In short, building your personal brand. That's the key to getting an endless stream of clients without having to rely on freelancing platforms.
Gary will teach you everything you need to know about building your personal brand through this course. For those of you who don't know the man, Gary is a successful entrepreneur and a great motivational speaker that knows how to truly get to the mind of someone.
By the way, Gary is a big fan of finding success through hard work. So, get ready to work hard.
Price: $95
Lectures: 56
Video: 4 Hours
Certificate of Completion: Yes
In a way, freelancers are a type of entrepreneurs. Both take risks and build stuff on their own terms. Only the bravest and fearless have the guts to be a freelancer or an entrepreneur.
In this course, Guy Kawasaki will give you a few tips on taking more advantage of the resources around you to be a successful entrepreneur. Even though the course focuses on startups and entrepreneurship, Guy's advice and tips are priceless especially when it comes to using social media, pitching, and working with entrepreneurs.
Price: $100
Lectures: 32
Video:  3.5 Hours
Certificate of Completion: Yes
This is not a course made just for writers, it's actually a course suitable for everyone for learning how to write well. It's taught by Shani Raja, a journalist who's worked at world's top news organizations such as The Wall Street Journal, The Economist, Financial Times, and Bloomberg News.
As a professional freelancer, you need to know how to write great emails and pitch to new clients with flawless writing. And this course is just what you need to learn how to do just that.
Price: $125
Lectures: 30
Video:  4 Hours
Certificate of Completion: Yes
I don't have to tell you about the importance of managing time. As freelancers, your income depends on how well you manage your time and how productive you are during a day.
If you're a parent, student, or an employee who's trying to do part time freelance work, take this course to learn about the methods and strategies you can use to manage your time better.
TIP: Don't expect to find all the knowledge you want for free. Best things in life will cost you. Same goes for these courses created by hard working professionals. They are sharing their experience and knowledge with you through these courses and that is something you can't put a price on.
So save some of that money you spend on coffee or skip movies just for this week and use that money to learn some new skills. It will reward you well in the long run.
Did you find this article useful? Then you should check out my book Freelance Like A Pro. It includes 21 lessons and 5 secrets from my freelance career to help you supercharge your journey as a freelancer. Click here to learn more.