Some people (mostly lazy ones) say that you can't control your success. Well, that's not true.
As a freelancer, there are a couple of things you can do to improve your chances of finding success:
#1 Work Hard
#2 Learn New Skills
#3 Keep Improving Your Skills
"If you want to be truly successful invest in yourself to get the knowledge you need to find your unique factor. When you find it and focus on it and persevere your success will blossom," – Sydney Madwed.
Ever since I discovered Skillshare, I've been learning a lot of new things. I enrolled in as many courses as I can find and I sort of got addicted to learning. It's been the best investment I've made in my life.
In fact, I even managed to bump up my prices thanks to the skills I've learned and the confidence I gained from the courses on these platforms. I learned to communicate better, find clients who pay more, improve productivity, and even picked up a few new extra skills that boosted my freelance writing career.
In this article, I share with you some of the best courses from Skillshare for freelancers. These courses are for improving your general knowledge. So, the courses are suitable for all types of freelancers.
Note: You can register with Skillshare using this exclusive link to get unlimited premium access to all classes for FREE for the first month. That'll give you plenty of time to learn many of these courses.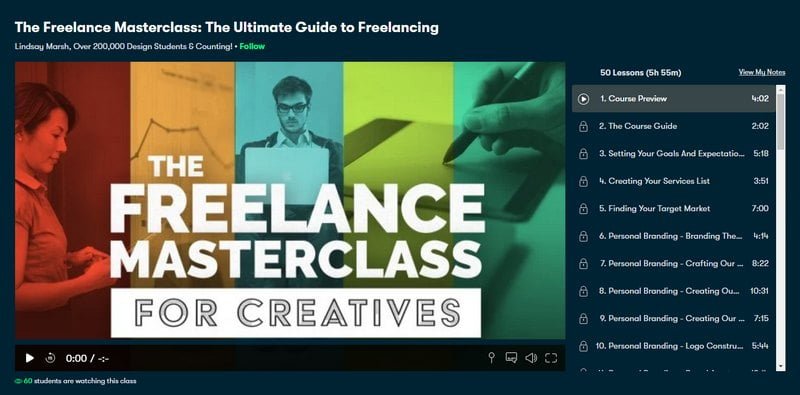 This is a complete masterclass course that will teach you everything you need to know about freelancing to start your career. The course is designed with creatives in mind, especially for graphic designers, web designers, illustrators, and photographers.
If you're not sure about freelancing or want a path to follow to start your career, this course will definitely help you get a head start.
Pricing is something you need to figure out early on before talking to clients. Finding the perfect price for your services will be a key factor in landing your first clients.
This is a great class you can use to learn the basics of pricing and understanding how to figure out the right price for your gigs.
UpWork is so popular right now that even getting your account approved is a challenge. This course will prepare to create a great profile on UpWork and even get it approved much faster. The course will even teach you how to land gigs and more.
The course is taught by Christopher Dodd. He's an experienced web developer who has used UpWork to find jobs for many years. The course contains lessons from his experience that are invaluable to beginners.
Interested in creating a gig on Fiverr? Then this course is a must-watch for you. While Fiverr can be a bad platform for freelancers, you can surely use it to learn from experience and even land your first few clients.
In this course, a Fiverr seller with over 5 years of experience shares her experience and effective tips on how Fiverr works and how you can get your gigs to rank higher in search.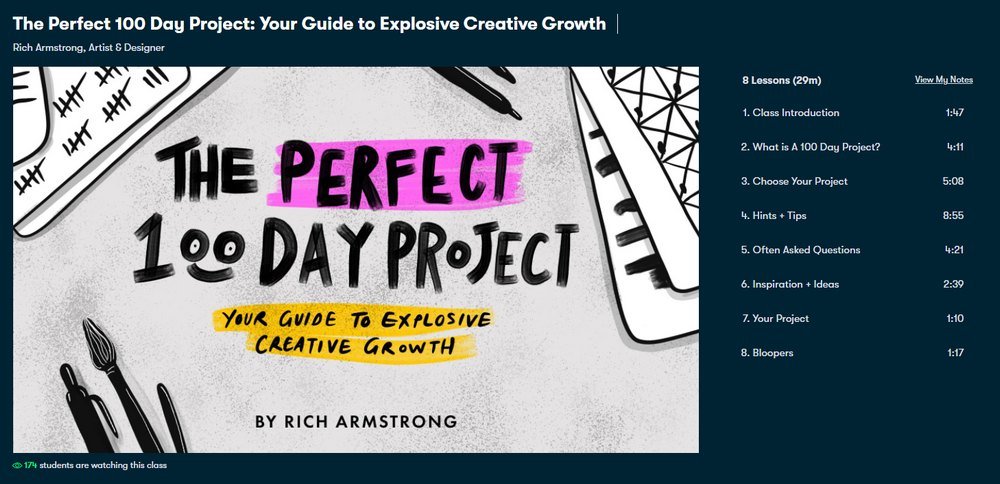 This is a fun and exciting course you can take to learn and discover your creative potential.
If you're not sure what kind of skills you have or where to begin your freelance career, this class will teach you the basics of how to get started in a fun way.
Having a killer portfolio is the key to convincing clients of your abilities and landing more gigs.
This class will teach you how to create the perfect portfolio for your freelance work. It's especially a must-watch for freelance designers.
This is a great beginner class that will teach you the basics of freelancing and the processes involved in handling clients.
It covers how you can generate invoices, create contracts, taxes, and more. The class is mostly a promotional piece for an online tool but you can learn the basics from it and apply it elsewhere quite easily.
Once you get started in freelancing and look for jobs, you'll often come across clients who scam you for work and never pay for the job. Luckily, there are ways to avoid such clients. This course will teach you how.
This course is taught by Annica Lydenberg, a freelance illustrator with years of experience. She shares her best tips on how to avoid bad clients and get paid on time.
All the courses on Skillshare are offered to you in small sizes. Which means they are easier to digest and learn.
This course, taught by Margot Harrington who has been running her own studio for 6 years, is only one hour long. But, the course packs a lot of great tips and advice for newbie freelancers, including client management, how to manage a budget, the financial side of freelance work, and more.
If you're still considering going freelance or just getting started, this course will give you all the information you need to learn how to properly get started as a freelancer.
This course is all about learning to take the first steps to become a freelancer.
This course is all about learning to make the most of your time. Through this 1-hour course, Tanner Christensen, a blogger and product designer at Facebook, shares some hacks on forming useful habits for turning your ideas into action and planning a roadmap for success.
This is a short free course on how to become a successful freelance writer in the age of content marketing. The course mainly covers the basics of content marketing and also includes few tips on pitching to new clients and marketing yourself as a freelancer.
This is yet another free, but informational course that teaches new freelancers about coming up with a clear mission for work, crafting a portfolio, marketing on social media, and finding financial success through freelancing.
If you're thinking about getting started in content marketing, this certification course by HubSpot is the perfect place to start your journey. It covers every aspect of online content marketing and even provides you with a certificate that's well-recognized in the industry. All for free!
This is a free course from the Hectic App, one of my favorite tools. This course teaches you how the world of freelancing works and how to handle your work as a business.
You can access it for free by creating a free account here.
Another great free course from Hectic. This course teaches you how to manage your finances as a freelancer.
In this course, you'll learn how to create contracts, charge clients, and overall how to keep track of your finances. There are some valuable lessons in this course for serious freelancers.
If you're a fan of the Fiverr platform (unlike me) and want to establish your services there, this free course will come in handy.
It's a high-quality course offered by Fiverr on how you can start offering your services on the platform. It's a free course but it covers a lot of areas that can be useful for Fiverr sellers.
In Conclusion
Don't expect to find all the knowledge you want for free. The best things in life will cost you. The same goes for these courses created by hard-working professionals. They are sharing their experience and knowledge with you through these courses and that is something you can't put a price on.
So save some of that money you spend on coffee or skip movies just for this week and use that money to learn some new skills. It will reward you well in the long run.