Start your freelancing career with a freelance site. Learn how to work with clients, how to get hired, win jobs, and deliver projects in time. Then start building relationships outside those platforms. But, never depend on freelance sites.
That's the best advice I can give to all new freelancers and I'm sure any other experienced freelancer will give you the same advice as well.
Of course, working outside freelance platforms comes with several risks and challenges. Going after your clients to get your payments delivered is one them. In a later post, I'll share some persuasion techniques and tips you can use to get your invoices paid quickly. First, you'll have to learn how to generate invoices for your clients.
It's easier than you might think and there are many ways to create an invoice, both online and offline. In this article, I'll tell you about the Free options you can use to instantly create an invoice.
Ready to get started? Good, let's begin.
BONUS:  Join my FREE email course to learn valuable tips, secrets, and expert advice on building a successful freelance career.
The Most Important Parts of an Invoice
A freelancer invoice is not much difference from the invoices other businesses use. It will include the same details and information, only instead of a business name you'll be including your personal name and address.
However, there are several crucial details you must always include in all your invoices.
Client details (company name and address).
Your name and address.
Invoice date, due date, and a reference number.
Instructions on how to pay the invoice.
Details about your service, unit prices, quantity, rate, tax, and a breakdown of the total.
Your contact information.
A sincere thank you at the end.
Include your client's name and address in the "Bill To" section. In order to keep track of your invoices, add a unique reference number for each of your invoices.
Provide instructions on how to make the payment, including your PayPal or banking details for as well. Your email, phone number, and links to social media accounts will add extra value and authority to the invoice.
If applicable, add your Tax ID in the invoice. In conclusion, add a thank you note at the end to show your appreciation of the client and to make the invoice look more professional.
With that information in mind, you can now use these awesome methods for generating your invoices for free.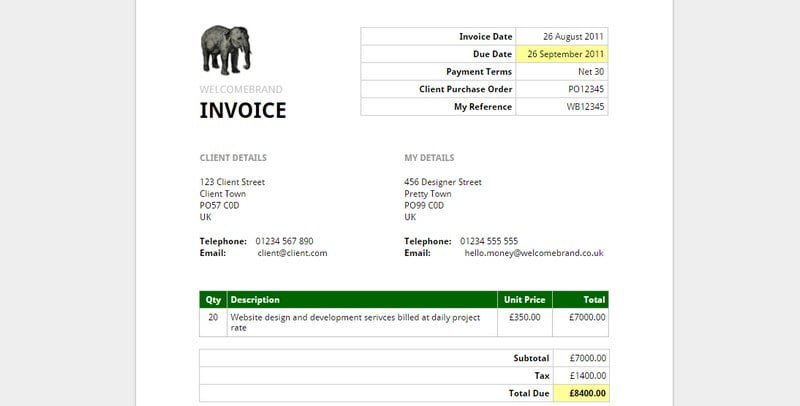 I've been using Google Docs to create my invoices for a long time. There are dozens of great templates you can use to create almost any type of document with Google Docs, including invoices. Best of all, unlike Microsoft Word, Google Docs is free to use.
The template above is one of my favorites. It has a professional looking design and comes with all the necessary elements of the invoice pre-formatted, so all you have to do is replace those dummy information with your own details.
Once you're done, you can download the invoice as a PDF and send it to your client. Click on the title link to grab the template and start editing right away. Sure, this is a very old-school method, but it will get the job done. Head over here for more templates.
This free invoicing tool allows you to create an invoice on the fly without even having to register with the service. Visiting the website will get you straight into the editing mode so you can quickly insert all your details and download the invoice as PDF.
The design of the template is not highly customizable, but at least this way you can download your invoice without a brand watermark on the document.
The popular office software developer, Zoho's invoice's generator features a solid design and an easy-to-use user interface for editing the invoice.  You can either print out the invoice or download it as a PDF.
For whipping out an instant invoice within a couple of minutes, this can be a great solution. The only downside is that the invoice will include a Zoho brand watermark on the bottom of the page which will give away your secret invoicing tool to your clients.
Hiveage is an online billing and invoicing system. It's the most convenient and feature-rich invoicing system I've ever seen. You can use it to design beautiful invoices with cool graphics to send to your clients or even create estimates for your projects before getting approved, which also allows you to easily turn those estimates into invoices within a few seconds.
The free plan on Hiveage allows you to generate invoices with a brand watermark for as long as you like. If you opt in for Hiveage Plus, it will allow you to attach a billing system to your invoices, such as PayPal and 2Checkout, to let your clients make your payments directly through the invoice you send them.
If you're generating a fair amount of income through clients outside freelance sites, you should definitely look into Hiveage. It will help add a professional touch to your freelancing services.
This is another affordable billing system, similar to Hiveage, that allows you to create professional looking invoices. The Free plan allows you to connect up to 45 payment methods to bill 100 clients per year and gives access to 4 invoicing templates with Invoice Ninja brand watermark.
At only $50 per Year, the Invoice Ninja Pro plan is more affordable than Hiveage and allows you to get rid of the brand watermark in your invoices and send invoices to unlimited clients. The service also includes auto-billing and recurring invoices as well as options to allow clients to pay the amount in partial or full payments.
There are plenty of websites that allows you to generate invoices. Carefully choose a service that offer a professional design. For example, PayPal also has an integrated invoicing system, which I do not recommend because of its ugly design.
It's OK to experiment but once you make your decision, stick to that invoicing system, instead of sending invoices in different designs to each client.