It takes real courage to quit a well-paying job to chase after your dreams.
But the truth is, only a handful of people find success that way.
Especially when it comes to freelancing, you will have a hard time surviving and paying your bills if you quit your job without proper preparation.
So if you've been asking yourself whether you should quit your job to start freelancing, let me give you a short answer: Do not quit your job. At least not yet.
First, let me tell you why freelancing is difficult and then I'll give you an actionable plan to quit your job without taking too much risk.
Freelancing Is Not Glamorous
If you've been watching some TikTok or Instagram videos of people traveling around the world and living that digital nomad lifestyle, I want you to know that 95% of those videos are fabricated.
Freelancing is not as glamorous as those social media influencers make it out to be. And it's certainly more difficult to find clients and deliver work while traveling around the world. It's possible but very difficult.
It took me over 4 years to get to a stable position as a full-time freelancer. Back then it was tough and thankfully, today you have more opportunities.
But, you have to work very hard to become a freelancer and earn a steady income. Here are the pros and cons of freelancing.
The Pros of Freelancing
Freedom: You'll have the freedom to work your own hours and work with clients of your choice
Time: You'll have more free time since you don't have to travel to an office
Money: You'll be able to earn more than your current salary depending on how hard you work
A Better Career: You'll be able to advance through your freelance career to earn more and find high-paying jobs more easily
Follow Your Passion: You'll be able to do work that you actually enjoy doing
The Cons of Freelancing
Find Clients: You'll have to look for jobs and find clients on your own
Loneliness: You'll miss your colleagues and working as a team
Work Harder: You'll have to work much harder to deliver work on time
No Guarantees: Freelancing has no monthly paychecks. You'll get paid for the amount of work you can do
Ask Yourself These Questions
You're still here? Well, I'm glad you've made it this far.
If you still want to quit your job to be a freelancer, try asking yourself these questions.
Do You Feel Bored At Work?
When I was at my first few jobs, I felt bored out of my mind. I felt like I was not utilizing my full potential.
If you're also feeling bored at work, you might be a high performer. You want to work hard and get the most out of your skills.
Then freelancing might be the perfect path for you.
Are You An Introvert?
If you're an introverted person, you'll perform much better as a freelancer.
Freelancing mostly involves working from home and most days you'll have to spend in your room.
Extroverted people who prefer to hang out with their friends and work as a team will often fail in freelancing.
Do You Hate Being Bossed Around?
Not all bosses are evil. There are actually some good employers and managers out there who care about their people.
If you have that kind of boss, you may be happy with your job.
But if you hate your boss or get yelled at every day, it's time to quit the job.
Do You Want To Spend More Time With Your Family?
We spend dozens of hours every month traveling to the office and then back home. Whether you go by car or have to take public transport, it's always a tedious experience.
As a freelancer, you won't have to worry about any of that. Plus, since you're working from home, you'll have more time to spend with your family too.
Are You Willing To Work Hard?
As I mentioned earlier, freelancing requires a lot of hard work. It's much more work than you're used to doing at the office. So don't quit your job thinking it's going to be easy.
If you're willing to work hard, you will find success as a freelancer.
How To Quit Your Job And Work For Yourself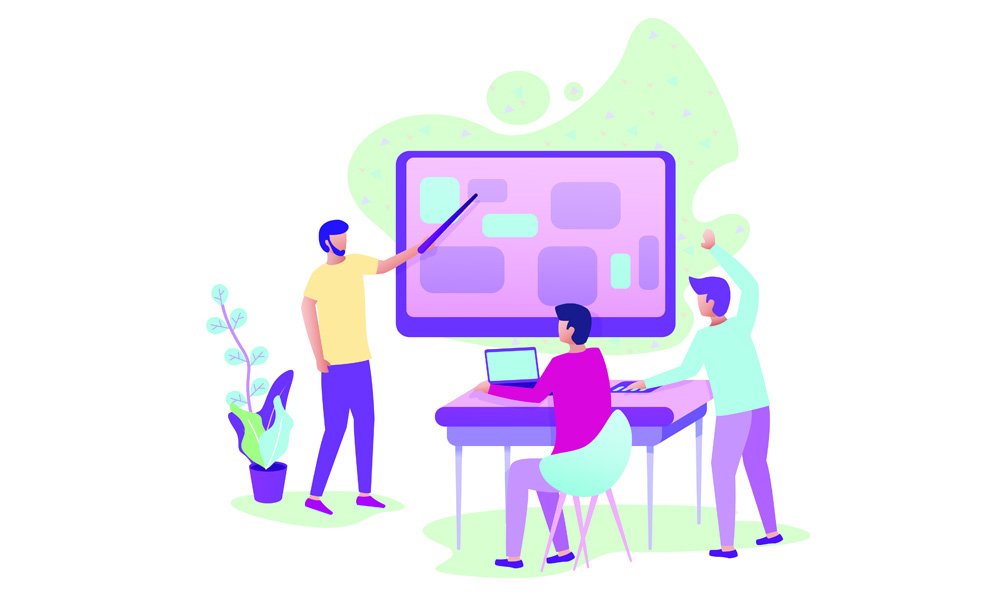 Now that you've answered the tough questions, you're ready to take the next step.
Here's a very basic step-by-step plan to quit your job to freelance.
TIP: Check out my How to Start Freelancing guide. And grab my book Freelance Like A Pro to learn how I made over $5K a month.
Step 1: Don't Quit Your Job, Yet
Do not quit your job without a plan.
It will take at least 3-5 weeks for you to find a client as a freelancer. If you don't have any skills to sell, it will take even longer.
So don't quit your job. Take your time to look ahead and plan accordingly. Follow the next steps before you quit.
Step 2: Polish Up Your Skills
Start by finding a skill that you're good at and passionate about.
Whether it's writing, graphic design, web design, or coding, there are lots of skills for you to choose from.
If you already have experience in such skills, then you only have to polish them up. If you don't have experience in any marketable skill, then start learning right away.
Use a platform like Skillshare to find online classes for skills that you're interested in and learn them every day.
Step 3: Start Freelancing On The Side
Once you're confident in your skills, you can start looking for a client.
Try freelancing part-time. Find a client who offers a small short-term project. These jobs won't take too much time to complete so you'll be able to do the work after you get back from your day job.
This is the best way to find out if freelancing is the right kind of career for you. Plus it will help you figure out if you actually enjoy freelancing without taking a risk.
Step 4: Save Some Money
While you freelance on the side, save some of that money.
It's wise to save money for at least 3 months worth of your expenses. This will work as a backup plan when you quit your job.
Step 5: Quit The Job When You're Ready
When you're confident in your skills and the ability to find clients, you can consider quitting your day job.
You have a backup plan and you're knowledgeable in how freelancing works. And you should already have a couple of clients to continue working with.
What's Next?
The most important thing to remember is not to be afraid of failing. It won't happen overnight. But if you keep working hard, you will be a successful freelancer.
So keep trying and working hard to find that first client. Then things will get easier. In the meantime, you should learn more skills and look for better opportunities.
Did you find this article useful? Then you should check out my book Freelance Like A Pro. It includes 21 lessons and 5 secrets from my freelance career to help you supercharge your journey as a freelancer. And I have just released the 2024 edition of the book with updated content. Click here to learn more.